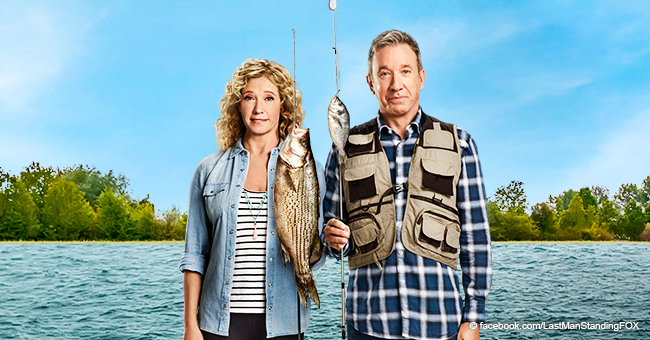 'Last Man Standing' Renewed for Season 8 after Airing Its 150th Episode

Following a very successful first season on the Fox network, the comedy starred by Tim Allen was announced for renewal in a public statement, in what will be the series' eighth season.
When "Last Man Standing" was retired from the ABC schedule in 2017 after six seasons on air, fans feared it was actually the end of it, but Fox managed to continue producing the show and it is now as big as ever.
65-year-old actor and comedian Tim Allen, a real-life Republican who plays the politically conservative leading character in the series, and who had cited political reasons for its cancelation, celebrated the good news of its renewal by Fox.
MANY REASONS TO CELEBRATE
"Great news for all of us who are creating these stories and working our pants off to make you all laugh. It's another big high-five to the legions of loyal fans who have faithfully kept us front and center and huge on the radar. Thanks to our family at FOX who continue to make us feel so at home."
-Tim Allen, Fox News, April 18, 2019.
The announcement came ahead of the show's milestone 150th episode. "Hard to believe 'Last Man Standing' hits 150 episodes this week and it gets better with another upcoming season at FOX!," Allen expressed.
Michael Thorn, president of Fox Entertainment, also released a statement praising the show and its cast and crew for its amazing performance rating-wise.
"'Last Man Standing' roared out of the gate on FOX, and has maintained its ratings dominance ever since," Thorn wrote.
"Much of that credit goes to the incredibly funny and talented Tim Allen, not to mention Nancy, Hector and the rest of the show's great cast," the chief executive added.
"We'd like to thank Kevin, Matt and the entire crew, along with our partners at 20th Century Fox Television, for overseeing one of television's most popular comedies," continued Thorn.
The first episode of the show aired by Fox was even more successful than its original premiere, with 2 million more viewers. It is currently Friday's Number 1 scripted series, with the second place among total viewers, following "Blue Bloods."
FANS UNHAPPY ABOUT THE NEW MANDY
While most of the series' original cast returned for the seventh season picked up by Fox after it was axed by ABC, actress Molly Ephraim, who used to play the role of Mandy Baxter, the daughter of Tim Allen's character, wasn't able to join them.
She had to be replaced by Molly McCook, who left her role in Netflix's "The Ranch" to fill in as Mandy, something that wasn't well received among many of the show's fans.
"Watching my first 'Last Man Standing' episode since the reboot and I gotta say, I hate the new Mandy," a Twitter user wrote.
"Not feeling the new mandy on 'Last Man Standing.' No offense molly but it's just not the same anymore!!" another user tweeted.
After McCook debuted as Molly in the Season 7 premiere, she addressed her feelings about the backlashed she received for portraying the character.
"At first, I took it pretty personally. But the hardcore fans of the show have been extremely supportive," she told Country Living back then.
Please fill in your e-mail so we can share with you our top stories!