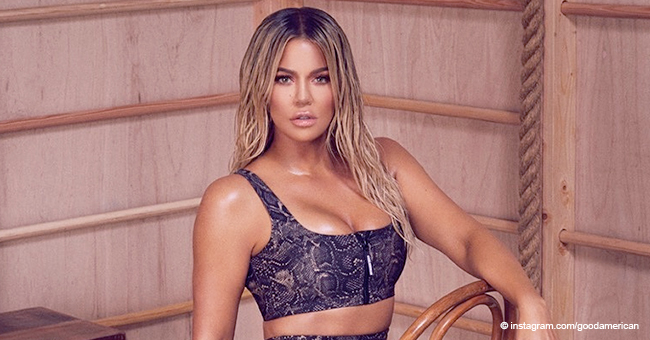 Khloé Kardashian 'Slays in Snakeskin' as She Poses in Animal-Printed Bra in a Sweaty Photo
Snakeskin tights are having a moment and Khloe Kardashian proved she can rock it better than anyone! The reality star showed off her sizzling physique in skin-tight snakeskin leggings.
The "Keeping Up With The Kardashians" star donned a pair of matching sports bra, showing off her ample assets. With a perfectly tanned and toned body, Khloe looked nothing short of a Goddess.
Her signature long nails were polished white which complemented her dark blue and tan sneakers. Khloe's wet, wavy locks fell upon her shoulders as she gave a sultry look towards the camera.
Khloe seems to be getting more beautiful by the day ever since she split up with her ex, Tristan Thompson. The NBA player cheated on her for the second time this year and this time, he was busted on Valentine's Day weekend for cheating on Khloe with Kylie's best friend, Jordyn Woods.
The couple shares an adorable daughter, True, who is growing up so fast.
Meanwhile, Khloe is unlikely to forgive Jordyn anytime soon after her affair with Tristan. She even removed her mentions from her denim brand's website. Woods was featured on the site as a member of Khloe's #GoodSquad for "Good American".
Kylie, who was living together with her BFF, was reportedly "in denial" after the news about Jordyn's cheating scandal broke out.
Khloe is moving on for good after all the pain she has been through. According to an insider, she is "doing her best to keep a positive attitude" and being a good mum to her baby.
"Khloe knows the worst thing she can do is drag around resentment and anger, she doesn't want that kind of baggage. She has a huge capacity for forgiveness so it'll happen I'm sure, but she's not there yet. She's still going through her grief," the source added.
Please fill in your e-mail so we can share with you our top stories!