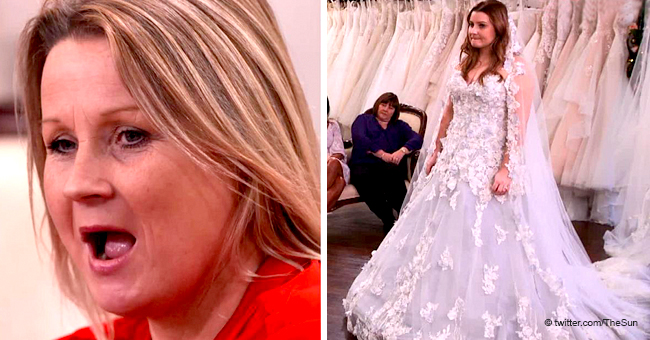 Mother Brands Daughter a 'Corpse Bride' after She Tries on a Quirky $3,400 Blue Wedding Dress

A mother slammed her daughter's $3,400 wedding gown — labeling her a "corpse bride" on TLC's hit television series.
Charlie, from Lancashire, is the most recent bride-to-be to show up on "Say Yes to the Dress," and wants a particular dress to coordinate her personality. However, her mother, Rachel, was ruthless in her opinion, as reported by The Sun.
Charlie who is getting married in a woodland said she wants a dress which will separate her from all the other brides.
"I want my wedding day to be fun and wacky, and kind of crazy," she explained. "I don't want to look like every other bride that walks down the aisle. I'd quite like to look whimsical."
Alongside her mother, Charlie tried on wedding dresses with the Ava Rose Hamilton stylists.
Rachel said: "My role is to tell the God's honest truth. Charlie's style is very unusual. Whatever dress she chooses will be something fairly scruffy and looks like it needs ironing."
When Charlie tried on an ice-blue wedding dress, which costs $3,400, her mother's mouth wide open in stun.
Rachel quickly said "no" when asked what she thinks of the dress. "Charlie looks like the corpse bride wearing the veil that she's wearing with this dress," she added. "It's a beautiful dress, but it's just really not Charlie."
Appears to be in two minds about the dress, Charlie said: "That is a lot of dress. That dress keeps going on and on and on. I love the color. The color's great. I just keep staring at it because there's so much to see."
The bride-to-be eventually goes for the first dress she tried on. But her mom needed some convincing over this dress too.
"I think I love it. But I think it looks like you've got a tail," Rachel said. "Mind you, you're getting married in a wood, so…"
Stylists Ava and Niamh then embellished the dress. They included sleeves and a veil, and then Charlie loved it. Her mother also loved the dress, saying it's stunning.
In another episode of "Say Yes to the Dress," bride-to-be Nichola, a police detective and ex-bodybuilder, was searching for a wedding gown that won't make herself feel self-conscious about her body.
However, her future mother-in-law, Caroline, hated the gown she adores, saying, "Everything looks good on you, but some things will look better."
Please fill in your e-mail so we can share with you our top stories!