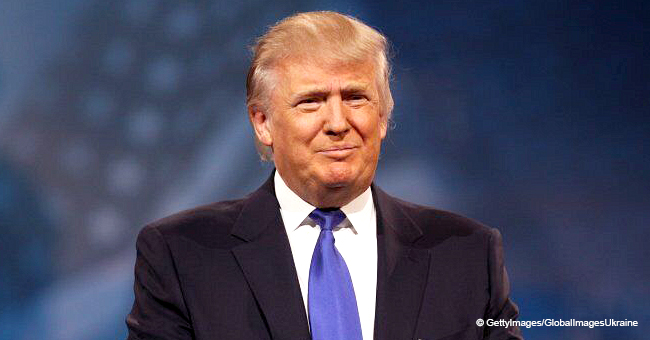 Donald Trump Shared Sweet Photo with His Grandkids Ahead of Easter
US President Donald Trump took time off to spend Easter with his grandchildren.
He shared an Instagram photo of himself with his little grandchildren, Chloe and Spencer.
"Grandpa time. Chloe and Spencer hanging out with their President… Kicking Easter off the way it should be with friends and family. Enjoy your weekend everyone," the photo's caption reads.
The president has nine grandchildren – three granddaughters and six grandsons – ranging in ages from 1 to 10 years old. His grandchildren are often seen at events Trump attends, including his presidential campaign.
His daughter, Ivanka, and her husband, Jared Kushner, are parents to Arabella, 6, Joseph, 4, and Theodore, 1.
The president has rarely mentioned his mother, Mary Trump.
The president's son Donald Trump Jr. have five children with wife, Vanessa Trump: Kai, 10, Donald Trump III, 9, Tristan, 6, Spencer, 5, and Chloe, 4. Lara and Eric Trump share a son, Luke, who is a year old.
TRUMP'S GRANDCHILDREN AT WHITE HOUSE EVENTS
Several of Trump's grandchildren were also present during the 2018 Egg Roll on the White House lawn.
During his turkey pardoning ceremony in November 2017, two of his grandchildren were also seen.
On their social media accounts, Ivanka and Donald Jr. have also uploaded photos of their children spending time with their grandfather.
President Trump has been public about his family. However, while he often talks about the influence his father has had over his life, the president has rarely mentioned his mother, Mary Trump.
RAGS TO RICHES
It has been known Mary started out as a domestic worker in New York after migrating from Stornoway, Scotland, where she lived a poor life.
Her father was a fisherman, and they lived on subsistence farming. Mary, who was the tenth of 10 children, traveled to America during the Depression, turning 18 in transit. She saw America as her hope for a better life.
President Trump's third and current wife, Melania, has the same beginning as his mother. An immigrant from Slovenia, Melania's family survive on factory work.
Melania and other children of factory workers would feature children's clothing in fashion shows at the factory.
She grew up to become a model, moving to the US in 1996. She met Donald Trump in September 1998 through her manager, who hosted a party at a Times Square nightclub.
Please fill in your e-mail so we can share with you our top stories!