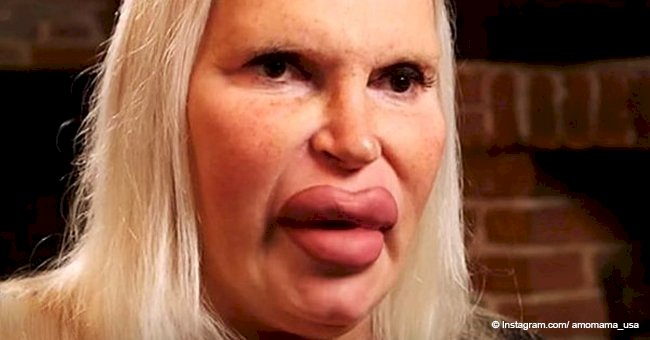 Woman Spends $75,000 to Get 'the Perfect Female Body'
Fulvia Pellegrino has spent a fortune in several different surgeries trying to get the perfect female body. And she has no plans of stopping just yet.
Even though she has gone under the knife more than a hundred times, and that she has spent over $76,000 on cosmetic procedures and surgeries, Fulvia admitted that she would keep doing it until she achieves perfection.
The work that Fulvia had done includes about 50 lip and cheekbone fillers, four breast implants, and two rounds of liposuction. Apart from that, she has got several surgeries done on her bottom.
One of the aspects that have wowed more people is that Fulvia's wife, Marisa, has supported her from the very first moment she embarked in this journey.
A DIFFERENT RELATIONSHIP
However, Fulvia's decision to become a woman has changed their relationship. More than a married couple, they treat each other like very close sisters.
While Marisa has always been there for Fulvia, her parents didn't react in the same way as they turned their backs at their daughter, claiming that they couldn't "tolerate" her behavior.
A DRASTIC SUGGESTION
Fulvia's parents were so disappointed that they even asked Marisa to sign papers so their daughter was sent to a mental facility to make her understand that her actions were not normal.
In an interview Fulvia had with Mirror, she revealed that it was very hard for her when her father passed away because her family didn't let her attend the funeral. They were too ashamed of her.
FOLLOWING HER HEART
Thankfully for the sake of her body transformation process, she didn't let that her parents' disapproval stopped her from embarking in such journey and she got breast implants, a nose job, and a facelift in 2004.
From that point on, she kept getting more surgeries. There was a time when Fulvia was in a tough financial situation, so she had to sell her guns, cars, and a house in France to pay for the cosmetic procedures.
THE OUTCOME
At the moment, Marisa is the only one working for the family and Fulvia became the "clown" of the town they live in as several people make fun of her and even create fake stories about her being a prostitute.
DIFFERENT PARENTS REACTING NEGATIVELY
Fulvia's parents were not the only ones who had a drastic reaction after learning that their son would become a woman as Daine Grey's parents didn't even claim her body after she killed herself.
Her mother revealed that they hadn't talked to each other in more than six years and that she learned about her transformation via social media.
Neither Daine's father nor her mother claimed her dead body, so her friends and members of the LGBTQ community of her school created a fundraiser account to raise money for the funeral costs.
Please fill in your e-mail so we can share with you our top stories!