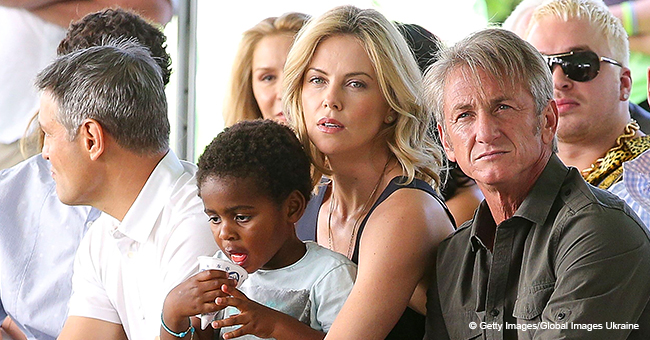 Charlize Theron's Son Jackson Is Transgender & She Is Raising Him as a Girl
Charlize Theron has finally confirmed what has been making the rounds as speculations for a very long time. The actress revealed that her seven-year-old son, Jackson, is transgender and explained how she found out.
Speculations about Theron raising her adopted son as a girl became rampant after several pictures emerged of the young boy in skirts, dresses, and long braided hair.
Speaking with Daily Mail recently, the "Atomic Blonde" star confirmed that Jackson, who she adopted in 2012, was born male.
Theron has been at the receiving end of online backlash for dressing Jackson in feminine clothes
"I thought she was a boy, too," the actress said. "Until she looked at me when she was three years old and said: 'I am not a boy!'"
Theron also implied that Jackson is as much of a girl as his three-year-old sister August, who the actress adopted in 2015:
"So there you go! I have two beautiful daughters who, just like any parent, I want to protect and I want to see thrive. They were born who they are and exactly where in the world both of them get to find themselves as they grow up, and who they want to be, is not for me to decide."
"My job as a parent is to celebrate them and to love them and to make sure that they have everything they need in order to be what they want to be," she continued. "And I will do everything in my power for my kids to have that right and to be protected within that."
Theron, 43, previously referenced Jackson's chosen gender last December while filming Variety's "Actors on Actors" series. She told fellow actor Michael B. Jordan that she was the mother of "two beautiful African-American daughters."
Following her revelation, the "Huntsman: Winter's War" star has been spotted dropping off Jackson at what appeared to be a music lesson in LA.
True to form, Jackson was dressed in a white t-shirt, grey skirt, and black leggings. Theron gave her daughter an affectionate kiss on the head before letting her go.
The South Africa native has since received praise and commendation for her open and progressive approach to motherhood, reports "The W Magazine."
Mermaids, an organization dedicated to family support for gender diverse and transgender children, also tweeted their support for Theron a few days ago, saying:
"Wonderfully affirming words from @CharlizeAfrica raising her two daughters, the eldest of which just happens to be trans."
On more than one occasion in the past, Theron has been at the receiving end of online backlash for dressing Jackson in feminine clothes, but now that she's opened up about her child's identity, it's clear the actress won't be paying attention to the criticism.
Please fill in your e-mail so we can share with you our top stories!