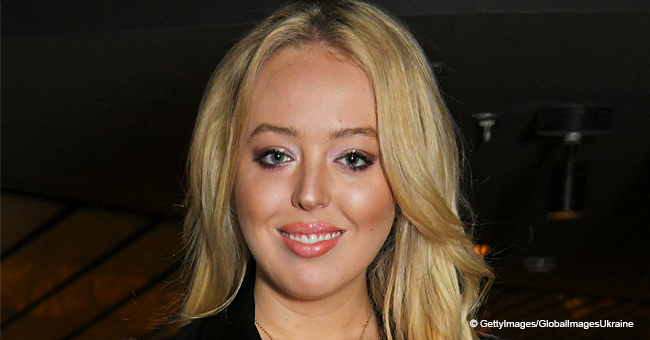 Tiffany Trump Dons Floral Mini-Dress as She Flaunts Her Legs on a Rare Family Outing
Tiffany Trump, 25, was spotted in a floral dress and heels while attending Easter Sunday service with her parents and boyfriend, in West Palm Beach.
America's First Daughter, Tiffany Trump, is barely out in the limelight and keeps her personal life private, but made a rare appearance during Easter Sunday. She was seen attending church service at the Church of Bethesda-by-the-Sea in West Palm Beach, FL, with her parents, President Donald Trump, 72, and First Lady Melania Trump, 48.
The mother-daughter-duo looked stunning in matching floral mini dresses; Tiffany wearing pastel spring colors with bell sleeves, held together with a gold belt, and heels while Melania wore bright spring colors, a purple belt, and purple stilettos.
Tiffany's boyfriend,Michael Boulos, also joined the first family for Sunday service, wearing a suit and a light pink tie, while Trump wore a suit and a red tie.
The bunch walked happily together, flashing smiles at onlookers and photographers, in the same place where Trump and his wife wed in 2005.
A brunch followed the service at Mar-a-Lago, the president's private club also known as the Southern White House, then a trip back to the White House for the annual Easter Egg Roll, a long going tradition, which is the 141st one this year. The event is celebrated in line with the Easter holiday where different activities are set to happen on the South Lawn of the White House.
Before going to Church, Trump tweeted an Easter greeting that ended up being controversial and attracting negative comments from social media users. His post included a subtle brag about the current economy, calling it the "economy that is the talk of the world." As usual, Trump did not mind it and went on to celebrate with his wife and daughter.
Tiffany is frequently called "the forgotten trump" because of her low profile and rare appearances from childhood up to today. Her mother, Marla Maples, was one of Trump's ex-wives who was known for her performances on Broadway and magazine features and covers.
Growing up, Tiffany did not have a close relationship with her father as they lived on opposite sides of the country. Hence the fewer media focus on her as compared to her older siblings.
She and Trump had limited time together, but the recent years have somehow made up for that as the two have been getting closer. According to the New York Times, Tiffany spent her spring break with her father at Mar-a-Lago.
The two share a common college; the University of Pennsylvania, where Tiffany performed well as a student, having double majors in sociology and urban studies with a concentration in law. This was also the time that she became closer to her father and half-sister, Ivanka.
Please fill in your e-mail so we can share with you our top stories!