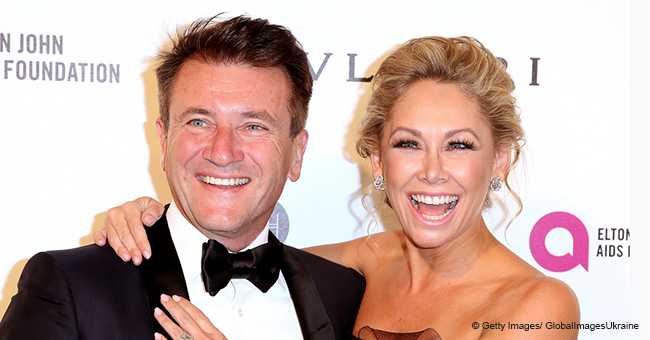 Robert and Kym Herjavec's Little Twins Celebrate Their 1st Birthday Today
The beautiful twins of Robert and Kym Herjavec have completed their first trip around the sun and their parents celebrate it very excited.
Little Hudson and Haven met this April 24th their first year of age and the images shared by their famous parents on social media caused a flood of reactions and comments full of tenderness.
The beautiful Australian family shared a picture with their fans in which you can see Kym giving a kiss to little Haven's chubby cheek and Robert, who smiles openly at the camera while holding little Hudson with one arm and the other embracing a large golden globe with the shape of number 1.
Recently the twins had revolutionized the media when Kym shared an adorable picture of them while the little ones were trying to move a toy truck and at the same time showing how close they are to learning to walk.
So probably, the next images we see of the twins are from when they are taking their first steps. We are sure that the fans just can`t wait to see these beautiful children reach that milestone.
At the beginning of last year, Kym shared the first images announcing that she was expecting and her enthusiasm was so obvious that everyone knew that when the babies were born, she would become the best mom in the world for them.
Since Robert and Kym fell in love during the contest of Dancing With The Stars in 2015, their fans have been able to witness how the relationship has been growing and becoming stronger.
After a year of their participation in the DWTS contest, Robert surprised everyone by proposing to Kym with a dazzling ring. The couple finally got married on July 31, 2016, and have had the happiest moments, as their smiles show.
We send our best wishes to them and hope that their happy life lasts forever. God bless this beautiful family.
Please fill in your e-mail so we can share with you our top stories!