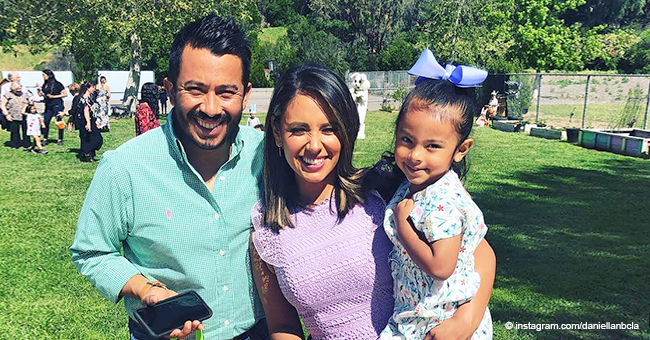 News Anchor Warns Parents after Toddler Daughter Nearly Died by Choking on Easter Candy
A Los Angeles news anchor decided to warn other mothers about the choking hazards of Easter candy after her daughter almost died.
The "Today in LA" anchor, Daniella Guzman shared a video of warning on her social media accounts after her 3-year-old daughter choked on a pink Starburst on Sunday.
The little sweets formed part of her Easter candy and in the blink of an eye, a happy day almost turned tragic.
On Sunday afternoon, the news anchor's toddler, Olivia, helped herself to some of her Easter candy while Daniella quickly went to the kitchen to warm her daughter's lunch.
He thought she was going to die in his arms as he rammed a finger down her throat.
Olivia started choking, and Daniella panicked as her daughter stopped breathing. Thankfully her husband knew what to do and quickly stepped in to perform the Heimlich maneuver.
"She could not breathe. I started screaming; I panicked honestly," she recalled on the video. "I am so thankful that my husband was here to help me and he started like, pumping her stomach, and she spat it out, but I was so scared."
Knowing that the situation so easily could have ended tragically, she pleaded with other mothers to be careful.
She held up one of the pink candy's for everyone to see and added, "I know a lot of kids out there are opening their candy from their Easter eggs, but please be very careful, especially these little ones right here."
After the scary incident, Daniella posted an update to Instagram and confirmed that Olivia is ok and back to her usual self. Alongside a picture of the smiling toddler she wrote, "Thank God! She's okay!"
Olivia is not her only daughter; she and her husband also have an eight-year-old daughter named Sofia.
Daniella's words of warning apply to everything small children can fit in their mouths, and even at times, what we give them to eat as a Saskatchewan father issued a warning of his own. "To all parents of small children…please always read labels on the foods we feed them," Justin Morrice said on a Facebook post.
After he fed his 11-month old daughter, Annabelle, he gave her a few Gerber "cheesies" as a treat while he washed her bowl. "Less than 10 seconds" later, he turned around and "saw her gasping for air."
Immediately his first aid training kicked in, and he gave her several back blows which failed to dislodge the treat. He knew that time was running out as her lips turned blue and he felt her little body go limp.
He thought she was going to die in his arms as he rammed a finger down her throat trying to get the piece of cheese out. His last ditch effort worked, and then he heard the sweetest sound, Annabelle's crying.
He felt that the texture of the cheese didn't feel as it should, and upon reading the label carefully, he saw the fine print which advised that the treats be consumed within five days of opening the container "for optimal freshness."
The opened container's "cheesies" had gone almost rubbery and didn't break apart or crumble like those in a newly opened batch.
"My little girl was almost taken from me by a cheesie," he said. "So I just want every parent my message can reach to be aware and read labels."
Choking hazards can come from the things we expect least, as an Australian blogger pointed out in a post on Facebook.
She posted an image of a throat x-ray of a five-year-old, with a grape stuck in her throat and explained how the toddler required surgery to remove it.
Dangers to children can come in many forms; therefore it is imperative always to keep small children supervised.
Please fill in your e-mail so we can share with you our top stories!