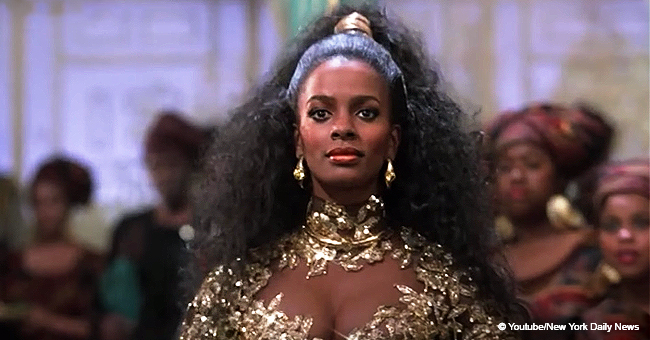 Remember Princess Imani Izzi in 'Coming to America'? She's Now Happily Married & Has 2 Pretty Kids
Remember Vanessa Bell Calloway who played Princess Imani Izzi in the classic hit comedy "Coming to America"?
In the 1988 Eddie Murphy comedy "Coming to America," his character, Prince Akeem, refuses to accept an arranged marriage with the breathtakingly beautiful Princess Imani Izzi, who was left all alone.
Fortunately for actress Vanessa Bell Calloway, life did not imitate art, and "Princess Imani" has been happily married for 30 years.
A MULTI-TALENTED ENTERTAINER
Although she is best remembered for hopping obediently on one foot and barking in the iconic scene from "Coming to America," Calloway is in fact a strong-willed and multifaceted artist.
Calloway began her career as a dancer in Michael Bennett's original Broadway production of "Dreamgirls" and went on to direct the music video "Angel Man" for soul singer Rhetta Hughes.
The couple shares two lovely daughters, Ashley, 29, and Alexandra.
A SUCCESSFUL MARRIAGE AND A REWARDING CAREER
Calloway may have made a success of her career, but she did not set her personal life aside to do so. She married anesthesiologist Dr. Anthony Calloway in 1988, and has spoken about what it takes to keep a marriage happy and healthy for three decades:
"One of the keys to a successful marriage is that everyone needs to wake up and have somewhere to go in the morning," explained Calloway.
EMBRACING THE CHANGES THAT LIFE BRINGS
Calloway explained that it is essential to understand that everything, including your own body, changes. Accepting the changes in yourself and in others is the key to happiness and contentment.
"Then when you get older. That's when it really changes. Your body changes. Your ailments change. Jobs and your position changes. Life changes. If you can't be in it for the long haul and still be friends–because that's what it comes down to–then you'll be in trouble."
A BUSY AND CONTENTED LIFE FOR THE MOM OF 2
Calloway admits that she is a very busy woman, and so is her doctor husband. And their career isn't the only thing that keeps them on the hop.
The couple shares two lovely daughters, Ashley, 29, and Alexandra. Alexandra is in advertising, but Ashley has followed in her mother's footsteps and is an actress.
Ashley has starred in "Crimson Tide," "Inland Empire" and "Unsung Hollywood" among others.
But Calloway's life hasn't always run smoothly, and in 2009 she faced a health issue that threatened her very life.
VANESSA BELL CALLOWAY'S BATTLE WITH BREAST CANCER
Vanessa Bell Calloway was diagnosed with ductal carcinoma at the age of 52. She underwent two lumpectomies, and then a mastectomy.
After her mastectomy, Calloway underwent reconstructive surgery, in which tissue from her stomach was used to reconstruct her breast.
Luckily, she has recovered completely, and as of now, she has been cancer free for 10 years.
Please fill in your e-mail so we can share with you our top stories!