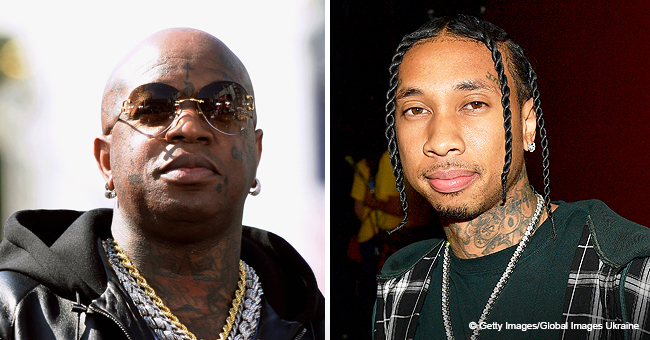 Tyga Dismisses $10M Lawsuit against Birdman
Tyga has reportedly decided to drop the $10 million lawsuit he hit Birdman with last year. The legal discord between the two men began back in 2016 and seems to be wrapping up.
The two worked together on Tyga's 2013 album, "Hotel California" as well as his 2012 album "Careless World." However, they split business dealings in 2016.
By 2018, Tyga filed the claim for royalty money he says he never received from Birdman's label Cash Money and Young Money entertainment. He formally sued for a contract breach along with damages.
The contract referred to a similar case made by Lil Wayne in 2015 in which Wayne claimed he should have gotten $10 million for his "Tha Carter V" album. He won an amount in the eight-figure region in 2018.
Birdman consistently denied the claims made against him by Tyga, even asserting that it's the rapper who owes the label money for its advances on the albums. They pushed to throw out the case and requested Tyga pay for legal fees.
In late 2018, an attempt at a settlement was reportedly made between the two parties but they didn't reach an agreement. For unknown reasons, Tyga voluntarily dismissed the case earlier this week.
The move is a good one for Birdman, whose financial problems came to light in January when he and Toni Braxton were thought to have split up. Apparently, it's not just rappers who were after the producer's cash.
Multimedia Innovations also claimed that Birdman owed them for work done in his former Miami mansion. This included labor, A/V installation, lighting fittings, and a smart home software installation.
The company demanded a whopping $61, 679, yet Birdman placed the figure at just reaching $20,000. For some reason, Birdman didn't want to pay even that.
As a result of his breakup with Braxton at the time however, he had to sell his mansion. Multimedia Innovations was able to place a lien against the building and will be paid out of the proceeds from the sale.
Braxton was also hit with a lien for back taxes owed for 2017 amounting to $340,252. The State of California Franchise Tax Board also alleged Braxton owed them over $100,000.
Please fill in your e-mail so we can share with you our top stories!