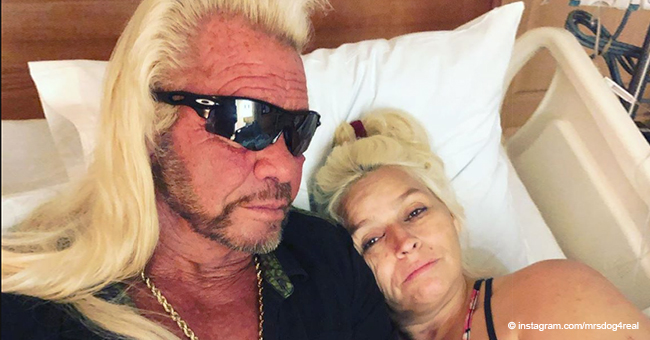 Beth Chapman's False Death: Internet Rumors and the Response from 'Dog the Bounty Hunter'
Beth Chapman is again the victim of false news announcing her death, but this time it seems that the Dog didn't remain silent.
At the beginning of April, several rumors surfaced on the internet saying that Beth Chapman had died and these unpleasant rumors seem to have filled the patience of her husband Duane Chapman, also known as Dog the Bounty Hunter, who has decided to respond.
Although it is possible that Dog only shared an image with a message without any intention to allude to the rumors on the death of his wife, his fans guessed that he made the statement in response to said rumors.
THE LIES
It is possible that the rumors began due to statements made by a lawyer of the couple to People explaining that Beth had been hospitalized in early April, also the celebrity was absent from social media for a few days and that helped the rumors circulate faster.
Although this is not the first time such rumors have been running on social media since Beth was diagnosed with throat cancer in 2017, this time the wave of false news was so big that it caught the attention of Snopes writers.
This website is responsible for defending the truth and fighting this kind of lies that arise everywhere in the network and according to their research, the rumors gained ground when a series of YouTube videos of "clickbait" began to announce that Beth had died.
Then those videos were shared by Twitter users and other social media platforms with the title "RIP Beth Chapman". Since then, the deception reached the point where Snopes editors felt the need to discredit it publicly.
DOG SEEMED TO RESPOND
It seems as if rumors of his wife's death could have led Dog to replicate since on Monday night he decided to post an Instagram of a quote that is often attributed to Winston Churchill and speaks about lies and truth.
Although there are no indications that Duane has published the quote in response to the false rumors of Beth's death, many agree that this phrase goes hand-in-hand with everything they have had to endure.
And speaking of the truth, it is necessary to point out that the quote actually says: "a lie will gallop halfway round the world before the truth has time to pull its breeches on," and the man who said it was Franklin Roosevelt's secretary of state, Cordell Hull.
Please fill in your e-mail so we can share with you our top stories!