Gabrielle Union Takes Romper-Clad Daughter Kaavia to Work (Photo)
Gabrielle Union joined the list of celebrity moms to take their child to work, and her daughter melted hearts looking adorable in a striped romper. Gabrielle Union already knew what it meant to be a mother; she's a step-mum to her husband's three sons—Zaire, Zion, and Xavier.
But her first time as a mother came when her daughter, Kaavia James, was born. Since Kaavia's birth, Union has not missed an opportunity to show her off, and posts tons of pictures of their moments together on social media.
A recent post on Instagram showed the mother and daughter looking beautiful. The "Being Mary Jane" star looked stunning in a green jumpsuit, while holding her daughter and wearing a huge smile, but little Kaavia's look stole the moment, as she looked adorable in a striped romper with her bib hanging on her neck.
The little girl who is nicknamed by her 450,000 Instagram followers "Shady Baby," melted the heart of her mother's followers. While some complimented Union on how great she looks as a parent, others wrote that the five-month-old baby is "Perfect," and "A beautiful sight to behold."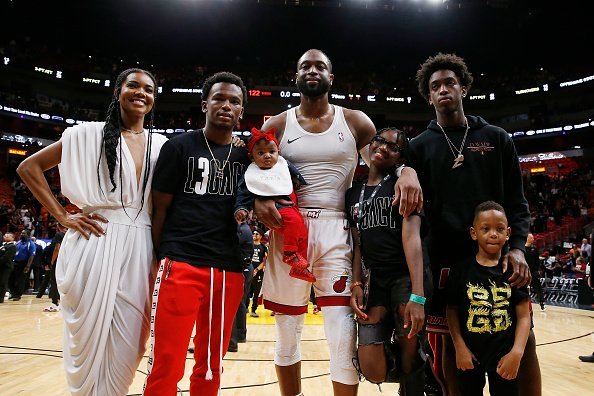 A lot of people agree with the last comment, and "E! News" proclaimed the little girl when she clocked four months as the "Cutest four-month-old of the year." The 46-year-old to mark the day shared a picture on Instagram, and "shady baby" stunned in an all-red ensemble and a white sunglass.
Posing for the camera and making epic facial expressions are not new to Kaavia; she does them so well that her pictures are captioned based on them. Also, she is on the cover of "Parents Magazine" with Union for their May issue.
Another thing the little girl is good at is making her food choices. In March, the "Deliver Me From Eva" actress shared videos of her little girl trying solid foods; it turned out that she loved butternut squash and disliked avocado.
Union and Wade welcomed their daughter last November via surrogacy after years of trying to conceive. In her memoir "We Are Going To Need More Wine," the "Act Like A Lady, Think Like A Man" star revealed that she had about eight miscarriages, and had series of IVF treatments.
It's no wonder she referred to Kaavia as her miracle baby. Apart from being a miracle, the little girl's birth came as a surprise as no one knew the couple were expecting until they shared the picture of her birth on Instagram.
Less than a month after, they had an exclusive interview with Oprah for a unique program on "OWN," and while Union loves her step-sons, she is enjoying every moment with her daughter after discovering the joys of motherhood.