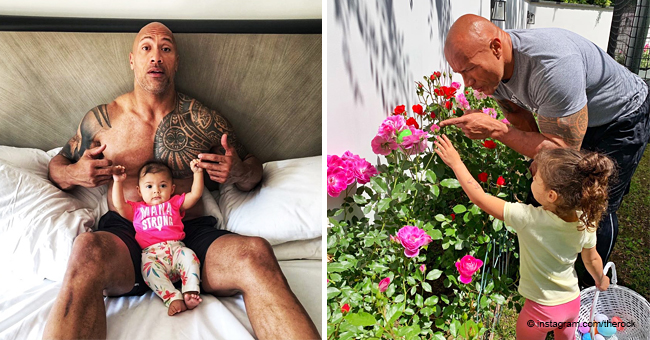 Dwayne 'The Rock' Johnson Didn't Give Kids Candy During Easter
Dwayne "The Rock" Johnson proved he is not a big fan of sugar by not giving candies to his daughter Jasmine Lia and her cousins on Easter. The actor would rather spoil the kids with toys than have them hooked up with sweet delights.
In his recent Instagram post, the former wrestler shared a photo of himself with his little daughter Jasmine Lia from their family Easter egg hunt.
"If you look right there, you'll find what the Easter Daddy, I mean Bunny left you. 100 eggs for Jazzy & her cousins for their hunt - all filled with tiny toys," he wrote. "No candy when you come to the Rock's house."
Johnson further shared that the last thing he needs is "wrangling a bunch whacked out kiddos on sugar" come down.
The actor's kids might not get to enjoy candies, but they will undoubtedly lead a healthy life. Afterall, they have a loving father who takes care of them in every way he can.
Johnson and his longtime girlfriend Lauren Hashian recently celebrated their second daughter, Tiana Gia's birthday. In a heart-touching Instagram post, Johnson said that he will always have his daughter's back.
"Happy 1st Birthday to our strong lil' beauty, Tiana Gia. Get used to daddy's hands kid ~ they'll always have your back," he wrote.
Previously, the rock shared an adorable video of his daughter Jasmine saying "I love you." When he asked his little one if she could say 'I love you', the toddler adorably said: "I love you."
Little Jasmine pointed at her father when asked who was the best daddy on the planet. After the adorable exchange, Johnson planted a kiss on his daughter's forehead.
Johnson is a loving dad to all of his daughters, which is evident in the posts he shares on social media.
Please fill in your e-mail so we can share with you our top stories!