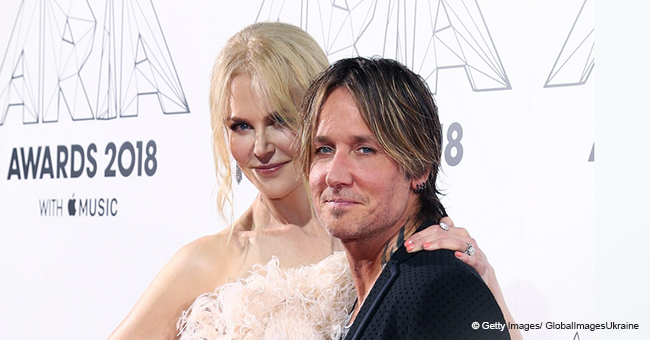 Nicole Kidman Doesn't Allow Daughters to Have Social Media or Even Phones
Actress Nicole Kidman will be the cover story for "Vanity Fair's" May issue. There she told the magazine a bit about her parenting style for her two daughters.
The "Big Little Lies" actress revealed that there was one policy she upheld for the girls.
Nicole Kidman, 51, has daughters Faith Margaret, 8, and Sunday Rose, 10, with husband Keith Urban. She opened up to "Vanity Fair" about the one rule she insists on for their children.
The actress shared: "They don't have a phone and I don't allow them to have an Instagram." She revealed that the reason behind the rule was because "I try to keep some sort of boundaries."
Kidman also shared an adorable anecdote about her two children with ex-husband Tom Cruise. The two actors share a son Connor, 24, and a daughter Isabella "Bella," 26.
The actress confessed: "You know, [Bella] really feels more English. We lived there for 'Eyes Wide Shut,' 'Mission Impossible' and 'The Portrait of a Lady.'" She added that "They both had English accents when they were little."
Connor lives in Miami and Bella lives "just outside London." Kidman's youngest children are both very much into music like their father.
Faith plays the violin while Sunday is more into the piano. The older girl also happens to be interested in filmmaking, like her mother.
However, the actress doesn't push her children into her profession. She also explained that even if she did it wouldn't work because "You can't really get kids into anything, I've realized. You can push them a bit, but motivation is a really hard thing."
The famous star added: "I mean, nobody motivated me to be an actor; if anything they tried to deter me." Kidman has also begun to talk to her children about physical abuse and boundaries, which she covered in an episode of "Big Little Lies."
She explained: "I was talking to Sunday about there being little girls in different parts of this world who don't own their bodies." The actress added: "A man owns their body. Her eyes were like, 'What?'"
She also revealed, "We're trying to educate about those things. But it's giving the information gently, and then guiding." "Big Little Lies" season 2 will premiere on June 9 on HBO.
Last year during an episode of the "Ellen DeGeneres Show," Kidman shared that her daughters would have a brief cameo appearance in the upcoming second season of "Big Little Lies." The actress was able to influence such decisions as she's a producer of the show.
Please fill in your e-mail so we can share with you our top stories!