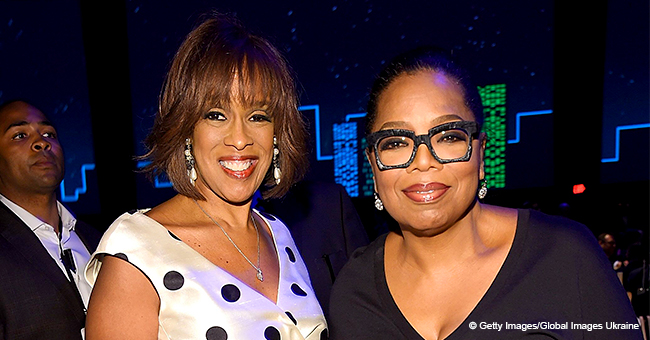 40 Years of Friendship: A Timeline of Oprah & Gayle's Relationship That Started in the '70s

Gayle King and Oprah Winfrey celebrated 40 years of friendship.
They are two of the most respected and influential African American women in the world, and each other best friends.
Gayle and Oprah's close-knit relationship is legendary and often upheld as an example of unconditional support and an unbreakable bond between women.
TWO VERY DIFFERENT WOMEN
At first glance, their friendship seems unlikely. Oprah grew up impoverished in Milwaukee, in an unstable home environment, and a victim of sexual abuse at an early age.
Gayle had a privileged childhood, spending several years in Turkey where she had a housekeeper and a swimming pool.
THEY MET ON TV
Oprah and Gayle met in 1976 when they were both working for Baltimore's WJZ station. Oprah was an anchor for the 6 o'clock news, and Gayle was a production assistant.
"Something about this relationship feels otherworldly to me, like it was designed by a power and a hand greater than my own. Whatever this friendship is, it's been a very fun ride—and we've taken it together," Oprah revealed.
BROUGHT TOGETHER BY A STORMY NIGHT
As two African American women, Gayle and Oprah struck up an immediate bond, and it became stronger after a snowstorm.
Gayle couldn't make it home in the bad weather, so Oprah invited her to stay over for the night. Their all-night conversation was the foundation for a life-long friendship.
Oprah became a billionaire business mogul, and Gayle is an Emmy-winning journalist
TAKING THE JOURNEY INTO STARDOM TOGETHER
Over the last 40 years, the two women made the often challenging journey to success side by side.
"We became friends that first night because for the first time, I met somebody who I felt was like me. I'd never met anybody like that. Certainly not another Black girl. I grew up in an all-white community," said King.
Oprah became a billionaire business mogul, and Gayle is an Emmy-winning journalist and member of the Broadcasting and Cable Hall of Fame.
At 65 and 64 respectively, they are at the height of their fame, and each year seems to bring fresh triumphs which they celebrate together.
GAYLE KING'S CONTROVERSIAL INTERVIEW WITH R KELLY
A recent interview Gayle King conducted had her BFF Oprah Winfrey and her audience anxiously sitting on the edge of their seats.
King was invited to interview R. Kelly after his recent arrest and it turned up to be a harrowing experience.
Kelly, who was charged with ten counts of aggravated criminal sexual abuse on four victims, three of whom were minors during the assault, turned out to be a volatile guest.
The R&B singer snapped, leaped to his feet and screamed denials, gesticulating wildly while King calmly sat in front of him.
Throughout the ordeal, King maintained a calm, cool and collected demeanor, and at length. Kelly calmed down. King was commended for her highly professional attitude.
Please fill in your e-mail so we can share with you our top stories!