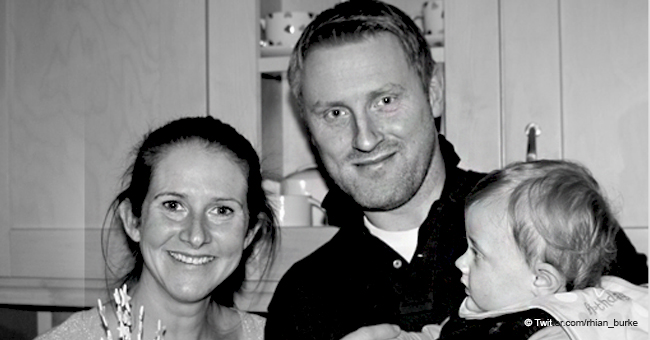 Woman Describes Her Pain after Son and Husband Died Five Days Apart
Rhian Mannings, founder of the mourning charity 2 Wish Upon a Star, recently opened up about the double tragedy that changed her life forever seven years ago.
Rhian Mannings suffered unimaginable anguish when her son George died a week after his first birthday. But more tragedy would follow when her husband Paul, unable to cope with the loss, took his own life five days later.
"I felt responsible for my boys' deaths in different ways. As George's mother, I should have known he was so ill...With respect to Paul, I failed him."
Although she has talked about her story before, Rhian recently wrote a personal account of the for several English publications. In it, she explains how she is helping other families that go through a situation she lived already.
THE TRAGIC NIGHT
On February 22, 2012, Rhian and her husband Paul were going through their regular night routine having three kids under the age of 3. The kids were bathed, and they were getting ready for bed-time when George, who had celebrated his 1st birthday a week before, suddenly fell to the floor.
"I got up slowly. I wasn't panicking as I didn't think there was anything to worry about, but when I tried to pick him up his body was limp, like a dead weight," she recalled.
That's when she started to scream for Paul.
"He looked, took him off me and said 'Call 999, call 999.' I was in the hallway trying to speak to the ambulance service, while Paul was knelt by George on the floor shouting for the paramedics to hurry up," Rhian remembers.
They took little George to the Royal Glamorgan Hospital in Llantrisant, but two hours later, he was dead. It was later revealed that George was suffering from Bronchial Pneumonia and Type A Influenza, with no visible symptoms.
After receiving the news, the hospital staff offered to take George's handprints and cut his curls, (a Welsh tradition) and asked the family if they wanted some quiet time with their son.
Rhian recalls:
"Unfortunately, the department had no family facility, no quiet area, nowhere for us to say our goodbyes in privacy. They finally found it somewhere. We followed a nurse down a corridor, as she carried our dead son in her arms. We eventually left George and went home to where our lives were, five hours previously, complete and full of happiness."
AN INIMAGINABLE PAIN
What followed was a myriad of confusion, police, questions, family, and friends showing up at the family's doorstep.
Five days later, Rhian would suffer another loss: "Paul, the most amazing daddy, and husband, couldn't cope with his loss and walked out of the house and didn't return."
"I felt responsible for my boys' deaths in different ways," Rhian admits. "As George's mother I should have known he was so ill and although I have gone over and over it in my head, I must have missed something."
And continued:
"With respect to Paul, I failed him. I let him down and should have been there for him. Why couldn't he talk to me? Why didn't he reach out? I will never know."
Rhian had to be strong for her other two children, who were 2 and 3 at the time, and brave the world despite the unmeasurable pain she was going through.
TURNING GRIEF INTO SOMETHING POSITIVE
Eventually, Rhian realized that she wanted to turn her pain into something positive and help other families that like hers, would go through the pain of losing a child.
"I wanted to stop other families walking down that corridor, for there to be somewhere to have those conversations with health professionals, with the police," she said.
Eventually, Rhian got in touch with a consultant pediatrician from Cardiff who invited her there to meet her team, and that is where the 2 Wish journey started:
"We refurbished their family room and viewing room, and we opened it on what would have been George's third birthday, Valentine's Day. We then introduced memory boxes into the departments. We introduced them into Cardiff, and the feedback from families was incredible. Word spread and these boxes, five years on, are in every A&E, every critical care unit and every mortuary in Wales."
The memory boxes are delivered to a family after they lose a child or a person under-25 suddenly. It contains items like a candle, two Elephant plushies (one to be buried with the deceased, and one for the family), organza bags for curls of hair, a photo frame and inkless handprint kits.
2 Wish Upon A Star, is now an established charity and has raised over £1.5m in five years. They have counselors across the whole of Wales that offer counseling support to these families who are funded by 2 Wish.
For more information on 2 Wish Upon a Star, go to http://www.2wishuponastar.org/
Please fill in your e-mail so we can share with you our top stories!