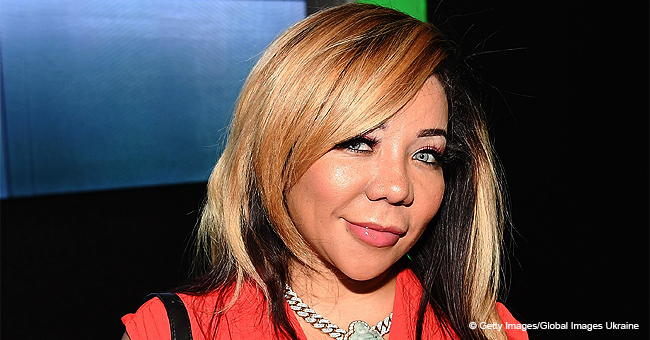 Tiny Harris Is a Bombshell in Blonde Ombre Waves and a Black Dress (Photo)
Tameka "Tiny" Harris turned on the heat and stepped out in high glamour mode that includes bombshell-blond ombre hair.
Sensual Tameka "Tiny" Harris is as well known for her stunning beauty as her flawless vocals.
The R&B singer has once again stunned fans by reinventing herself, and posting an amazing photo of her new image on Instagram.
A STUNNING METAMORPHOSIS
Harris, who had recently flaunted vivid scarlet hair, is now sporting glamour girl bombshell-blond ombre waves.
The 43-year-old singer upped the ante with a new sophisticated makeup look, all dark smoky eyes, and rich raspberry lipstick, like a true Hollywood Diva.
SLEEK AND SOPHISTICATED
But Harris' transformation went beyond makeup and hairstyle. Harris donned a sleek and sexy black velvet gown with a plunging neckline that clung to every delectable curve.
Rapper T.I. and "Tiny" Harris have been together since 2001, and share three children.
"TINY" HARRIS' STUNNING FIGURE
Harris, who is the mother of three, attributes her enviable figure to a sensible diet and lots of time at the gym. Harris also loves boxing and works out with celebrity personal trainer, Kory Phillips.
"I do plan on working out a lot, because I wanna be summertime fine. I was boxing, and I do want to get back into boxing [again] and working out more. — That's the plan." she said.
T.I. AND "TINY" HARRIS' POWERFUL BOND
One person who will definitely approve of Harris' glam new look is her husband, T.I. Harris.
Although the couple went through some difficulties, and there was even talk of divorce over the rapper's infidelities, their 18-year-relationship is back on solid ground, and T.I. is his wife's biggest fan, and most ardent admirer.
TINY HARRIS' GORGEOUS MINI-ME
Rapper T.I. and "Tiny" Harris have been together since 2001, and share three children.
The couple was already the proud parents of two boys - King,14, and Major, 10 when they welcomed their third child Heiress in March 2016.
The family went through a great deal of anxiety when Heiress was born prematurely, and she spent several weeks in the hospital, growing and putting on weight before she was allowed to go home.
"Tiny" has an older daughter from her previous relationship with Zonnie "Zeboe" Pullins and T.I. has three more stepchildren, bringing the blended family to a grand total of 7 children.
Please fill in your e-mail so we can share with you our top stories!