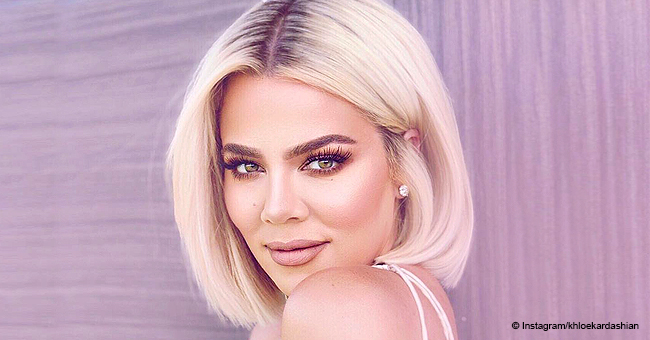 Khloé Kardashian's Daughter True Kisses Herself in the Mirror (Photo)
Khloé Kardashian's daughter, True Thompson, is practicing self-love in the most adorable way: by kissing her reflection on the mirror.
The adorable tot, who recently celebrated her 1st birthday, showed she has learned a thing or two from her mom and aunts when it comes to self-esteem and embracing herself.
In a new Instagram pic shared by Khloé, baby True stood in front of a full-length while doing a cute pose with her leg and kissed her lovely reflection.
She donned a ruffled black jumper, silver earrings and a bracelet. Her hair was styled in adorable tiny buns, and she was shoeless.
Khloé only added a kiss emoji on her caption, letting the photo speak for itself.
FANS' COMMENTS
Fans of the Good American designer took over the comment section to gush about True's cuteness, and most of them praised Khloé for teaching her daughter to love herself from such a young age.
"True is an angel! My favorite baby of the Kardashian's ... she will be a muse for inspiration bless her!" wrote one user.
Another added, "The best thing you'll ever do for this little baby girl is to teach her how to love herself. Just a gentle recommendation, I'm sure you already know that."
And a third one chimed by citing words from drag superstar RuPaul Charles,
"If you can't love yourself, how in the hell you gonna love somebody else. Can I get an Amen?"
TEACHING SELF-LOVE
Speaking to The Daily Telegraph's Stellar magazine in February, Khloé explained why it's so crucial for her to teach True everything about self-love and positivity.
"I never, ever considered myself chubby or overweight. I didn't know that I was until I went on TV, and everyone told me that I was 'fat,'" she said. "I never felt that way, because my family never allowed me to."
And continued:
"As silly as it sounds, I do positive affirmations with her in the morning. As silly as it sounds, I do positive affirmations with her in the morning. It's so corny, [we] sit in front of the mirror [and say], 'I am beautiful.'"
Khloé explained that it's her job as a mom to make True feel "strong and confident and beautiful," no matter how she looks like.
EMBRACING DIVERSITY
She also wants to instill in her girl that it's okay to embrace all sizes, shapes, races, and ethnicities.
"My whole family is a melting pot of race and skin tone and hair color and height — everything. That's our reality, and our children need to know how beautiful diversity is," the reality star added.
A few days ago, Khloé melted hearts when she shared a video of her morning positivity routine with True.
In the clip, the toddler was sitting in front of the mirror while her mom asked "Do you love yourself?" from behind the camera. "Do you say, 'I am so beautiful.' Look, say, 'I am so happy. Yes, I love myself. I am so strong.' What else do you say in the mirror?" Kardashian continued while True giggled.
She even gave the mirror a kiss, which seems to be a regular occurrence.
Talking about self-love, Khloé seems to have found her peace after navigating through Tristan Thompson and Jordyn Woods cheating scandal under the public eye.
Despite all of the pain and betrayal, Khloé told a fan on Twitter that "Baby True made it all worth it."
Please fill in your e-mail so we can share with you our top stories!