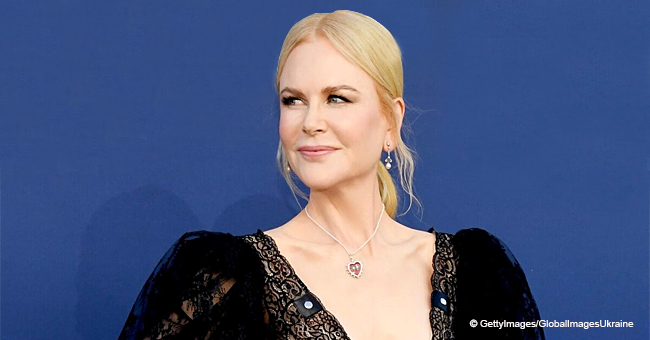 Nicole Kidman Revealed That Friends 'Tease' Her for Having a Strong Belief in God
Hollywood's A-list actress, Nicole Kidman talks about her strong faith and how friends always "tease" her about it.
In an exclusive interview with "Vanity Fair," one of Hollywood's finest gives an account of aspects of her life as she talked about her family, career, and faith.
Kidman seems to be on a hiking expenditure as she answered to questions revolving around her.The prolific actor talked about why she preferred Nashville as it was evident that Nicole enjoyed "total privacy" out there. She and her Country Music star husband, Keith Urban have lived in Nashville for 13 years after they tied the knot.
Nicole ventured next into a discussion surrounding her robust career as she stated:
"I've done weird films, and I've done things that are so obtuse, which I'm still committed to because I like performance art and not conforming to what everyone expects of you. I don't think in normal terms."
She also included that Keith once referred to her as "so not mainstream."
Because of this rare quality she possesses, Kidman has been able to display unique expertise in the entertainment world. A force to reckon with, her classic style goes way back to the 1980s.
Nicole went on as she speaks about her marriage and family. The "Big Little Lies" actress explained that despite her very healthy career coupled with Urban's thriving music, the couple has managed to reach a compromise.
The 51-year-old moved on to talk about her kids. The actress informs "Vanity Fair" that her children have shown interest in show business. 8-year-old Faith plays the violin while Sunday, 10 shows interest in piano as well as acting.
Nicole, however, said that her kids' interest couldn't be defined as children tend to have wavering interests.She said:
"You can't really get kids into anything, I've realized. You can push them a bit, but motivation is a really hard thing."
Nicole mentioned her strong faith in God and how she makes sure that her kids are grounded in the ways of her faith. The actress is a staunch believer and is undeterred at showing it.
Kidman said:
"A lot of my friends tease me. That's how we are raising our children. Keith has his own beliefs, but he comes, too. I had a very Catholic grandmother, and I was raised praying, so that had a massive impact. I wouldn't say it's absolutism; there's constant questioning — I'm a willful, feisty girl. For me, it's very important that I don't have judgment. My dad would always say, 'Tolerance is the most important thing'."
The mother-of-four relays her parenting policies as she stated that she disallowed the use of Instagram amongst her kids.
Please fill in your e-mail so we can share with you our top stories!