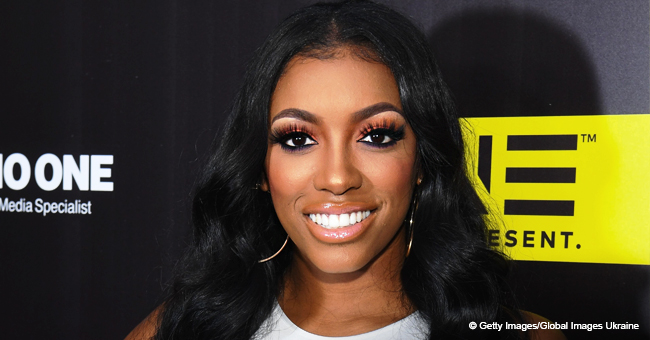 Porsha Williams Flaunts Post-Baby Body Weeks after Giving Birth (Photo)
Porsha Williams put in the work after giving birth and now her hourglass figure is back. The star was praised for her exceptional "snapback" in her recent post.
People in the comments were compelled to ask whether the amazing shot was a recent picture or not. It was just last month that the "Real Housewives of Atlanta" star, 37, gave birth to her first daughter.
The snap worked in combination as an advertisement for Williams' clothing line, as well as a promotion for her hair stylist. However, the main focus was on just how good that white sleeveless top and light blue jeans made Williams look. The photo is found below.
She wrote:
"SHOP NOW! What's your favorite item from my @minxstaroffical line?? Check out our PERFECT fit jeans www.MinxStar.com "It's from my line" @minxstaroffical. Hair: @gonakedhair @kendrickken3."
Comments came rolling in about Williams' "snapback," also termed "bounce back." "Bounce back is on point," a fan named Amy Lynn Booth said. Of course, there were critics.
One person suggested that Williams should just use a model while alleging that photoshop was used, and it was "bad." On the other hand, someone typed in the hashtag "#NoFilter" along with a positive comment.
If it's anything to go by, Williams did post a very raw and real photo of herself with baby Pilar Jhena McKinley sleeping soundly on her chest. Williams wore a head tie to hold back her undone hair and had on a grey tank top.
She wrote:
"I officially don't care what I look like. She is the end all be all #obsessed #PjsWorld."
Williams and her fiance Dennis McKinley welcomed Pilar into the world on March 22, nearly six months after announcing their engagement. It was a "dream come true" according to Williams in an interview with People.
The businesswoman was especially pleased because she had gone through a miscarriage in the past and was worried about this time as well. When the baby arrived, their whole lives changed.
Williams opened up an Instagram account just for Pilar and regularly posts sweet photos there. She further wants to share with the world her experience of being pregnant.
A Bravo TV special will feature all the events leading up to the delivery. Williams announced the date earlier this week alongside a stunning photo of herself and her family pre-delivery.
In the snapshot, Williams wore a red and white polka dot dress with white stilettos. She appeared to have white accessories to match and had her hair styled in a sleek '70s do.
The caption, starting with a video camera emoji, read:
"#Porshas Having A Baby. Airing April 28th! Only on @bravotv !! "I Love Porsha."
Also in the picture was Porsha's fiance, Dennis McKinley, her mother, and two other women. The 37-year-old held her then-pregnant stomach as she posed for the shot.
Bravo TV has already released some preview clips on their website ahead of the highly anticipated special. "Porsha's Having a Baby" will show the events and drama that led up to her pregnancy.
Problems faced by the couple include McKinley's discontent about moving out of his home and basically having to live out of boxes at Williams'. He also expresses disgruntlement with having to sign a rental agreement.
At one point, McKinley allegedly asked Williams if she wants "to be a baby mama or a wife," to which Williams responded, "Oh baby, I'm already a fiancée!"
Ultimately, Williams declared her and her partner as "soul mates." At least for the sake of baby Pilar, we hope the issues on the show are not translated into any future discord. Meanwhile, it's great to see Williams taking steps to better her health even as she bonds with her child.
Please fill in your e-mail so we can share with you our top stories!