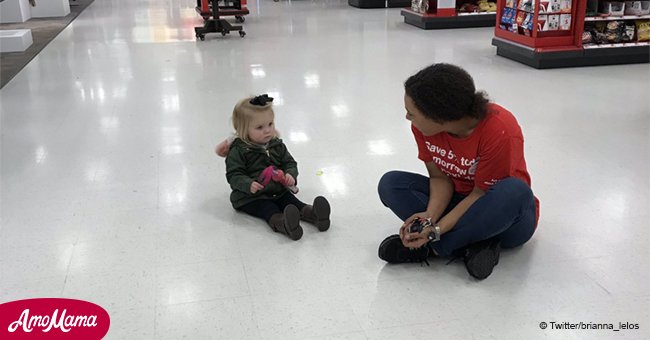 Target Employee Brilliantly Ends Toddler's Public Tantrum in This Viral Video
Shopping with children can be a nightmare, but this Target employee went out of her way to assist a mother.
Brianna Lelos, a mother of Massachusetts, was at her wits' end when her daughter had a tantrum in the middle of the Target store.
Without skipping a beat, a Target employee calmed the child down by sitting down on the floor. He kind gesture calmed the little girl.
Lelos shared a snapshot of the scene on her Twitter account, thanking Target "for having kind, caring, humans working at your stores." She added:
"To Liliana of the Wilmington, MA @Target store: Thankyou. I think every parent knows the feeling of their toddler/any age child having a tantrum in the middle of the store."
Target responded to the Tweet by thanking Lelos for reaching out to them. They were excited to hear about the incident as they "strive to provide great service."
They were proud of their team member, and added: "We will forward this awesome feedback to our Wilmington Store Leadership team."
The story soon went viral and got the attention of the store employee's mother, Lynn Booth. The proud mom wrote:
"Hi everybody. That's my daughter, Lianna. She's a great kid and this is how she is with all the children, even her own! Thanks for recognizing her kind heart, it means a lot to me and her!"
Target seems to bring out the worst in children. Back in 2017, a father went viral for the skillful way he handled his daughter's tantrum.
Terrel Crawford from Ohio recorded the incident and shared it online. In the clip, he can be seen standing by his car with his daughter crying in the background.
The caption reads: "When spoiled ass kids get told NO in Walmart." He doesn't say anything for the first few seconds.
Eventually, Crawford looks at her and asks: "You done?" When she nods her head, he says it "sounds like you're still on it."
Crawford asks her if she's ready to start listening and stop whining and screaming, to which she's also nodding her hand. He says:
"I'm not taking you back into Walmart until you stop with your mess. [...] If we going back into the store and do it again, we're coming back out."
He gives her a lesson about to behave herself, and the video ends when the father-and-daughter head back into the store, no sign of a tantrum in sight.
Please fill in your e-mail so we can share with you our top stories!