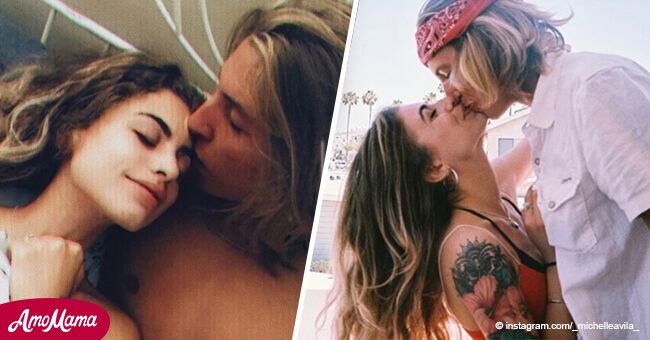 Parents Reveal Mystery of Young Couple Who Died Together in Bed
A beautiful and young couple who died "hugging each other" in bed for yet unknown reasons has been compared to "Romeo and Juliet," leaving heartbroken parents.
A double drug overdose has been suggested as the probable cause of death Michelle Avila and her boyfriend, Christian Kent, after their bodies were found at Avila's childhood bed.
The couple had been partying at a friend's house the last time they were seen alive, reportedly not "drinking much" due to the two been sick with a cold, for which they were taking antibiotics.
Avila and Kent returned to the girl's family home in Newport Beach, Orange County, California, around 12:30 according to Michelle's parents, Paulo and Adriana.
It surfaced that Michelle had even laid out the clothes she was going to wear in for her 6 a.m. shift at the coffee shop where she worked, which makes a double suicide improbable.
The results of the autopsies are yet to be obtained, and toxicology reports will take months to be completed, but the Avila's seem to be convinced that it was a drug overdose that claimed the lives of this "perfect couple."
"Two beautiful kids. It was like Romeo and Juliet. They both died and they were hugging each other."
The two college students were planning to transfer to California State University in Long Beach next year to be together, as Christian used to study in San Diego.
Christian was a surfer, and Michelle was a journalism student with straight A's, and the two seemed to be very in love, planning to travel the world together.
Michelle was a month short of turning 24 years old and had spent the last years traveling the world.
According to a report by the Orange County Health Agency, deaths caused by drug overdose in the area have risen in 88% between 2000 and 2015.
Now, Michelle's friends have started a GoFundMe campaign to help her parents open a program aimed at educating young people about drug abuse.
"What blows my mind was a lack of any warning lights. She was normal. It's not something that they were planning. No planning on this one. This was just an accident," Mr. Avila shared.
"My mission is to send a message, to show how beautiful people can go through something like that. You're protected by nothing. You're supposed to care for what God gave you, and she was God's gift. That's what's eating me, from inside out. How come I failed? It just destroys me," he added.
Deaths caused by drug overdose in the area have risen in an 88% between 2000 and 2015.
Gunner Bundrick and his friend of the same age, Jake Morales, had spent the night at Bundrick's house enjoying some pizza and video games, and Bundrick's mother found the two boys dead the following morning.
The two young men were found unresponsive, and paramedics declared them dead at the scene. The medical examiner declared that they had succumbed to a combination of fentanyl and 4-ANPP mixed with Percocet.
Heartbroken, Gunner's aunt Brandi took to social media to share her nephew's story to spread the message about the dangers of experimental drug-use among teenagers, with the hope of being able to prevent others.
"Gunner's story could very well save your child's life so please, share his story," Brandi wrote in a Facebook post that has since been shared more than a million times.
Please fill in your e-mail so we can share with you our top stories!