Cadaver Dogs Might Have Found Serenity Dennard Three Months After Her Disappearance
Three months after 9-year-old Serenity Dennard disappeared, police have made new discoveries in the case. Cadaver dogs may have picked up the scent of the little girl.
On Monday, investigators and search crews found new information in the case of 9-year-old Serenity Dennard's disappearance.  The new evidence should clear up misunderstandings.
Pennington County Sheriff Kevin Thom explained that dog teams involved in the search for Serenity are picking up a human scent in Rockerville. However, the winter weather is reportedly stacking the odds against police finding the nine-year-old until the weather improves.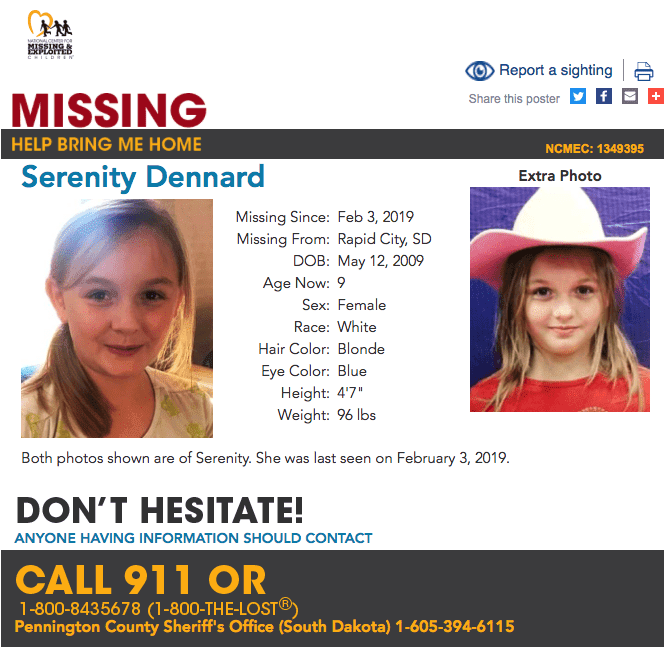 Serenity walked away from the Children's Home Society on Sunday, February, 3. A couple who was chopping wood nearby believed they saw her.
However, they actually saw a staff member from the Children's Home who was out searching for Serenity.  Sheriff Thom revealed that two people who did not work for the Children's Home saw Serenity while they were in the parking lot. 
The volunteer K9 teams put it a lot of miles and a lot of up and down the rugged terrain today. We thank them for their hard work looking for Serenity Dennard.
They'll be back at it tomorrow, meanwhile the investigation continues. pic.twitter.com/2IA7j5hdrd

— Pennington County SO (@PennCoSheriff) April 28, 2019
Investigators believe they are the last people to have seen her. The people in the parking lot reported to police that Serenity crossed the cattle guard and headed north on South Rockerville Road.
After telling staff she was missing, they left the facility. However, Serenity vanished from the road without a trace.
Six K9 search teams from several states did not find Serenity Dennard today (4/27/19) but will be out again tomorrow. pic.twitter.com/xsU28P3vBd

— Pennington County SO (@PennCoSheriff) April 27, 2019
"Those two witnesses drove back out onto South Rockerville road, and didn't see Serenity," Thom said. "In that three to five-minute window, she was no longer on the road. Where she went from there is what we're trying to ascertain."
Rescue crews are focusing their efforts on the area around the Children's Home, and Teepee Gulch Road. The search continues in the area as a result of the progress made by the dogs.
"They did have cadaver scent in the area from multiple teams, not every dog team, but multiple dog teams, have identified there is cadaver scent in the area," Sheriff Thom said. "That is what has been driving where and how we've been searching."
Sheriff Thom revealed that all efforts are dependent on the weather. Unfortunately, recently the weather is uncooperative.
6 dog teams + handlers will return to S. Rockerville Rd area to search for Serenity Dennard. She was last seen Feb 3. The dog teams come from N. Black Hills, Wyoming, Montana and Colorado to search Sat & Sun, April 27-28. Some 25-30 people will be involved in the weekend effort. pic.twitter.com/Rer5BcS6ID

— Pennington County SO (@PennCoSheriff) April 26, 2019
"When it comes to a cadaver dog, you need decomposition to happen, so there's scent in the air. Cold weather and rain suppresses that so it makes it more difficult," said Thom.
Investigators continue to follow all leads through social media, in the community, and across the country.