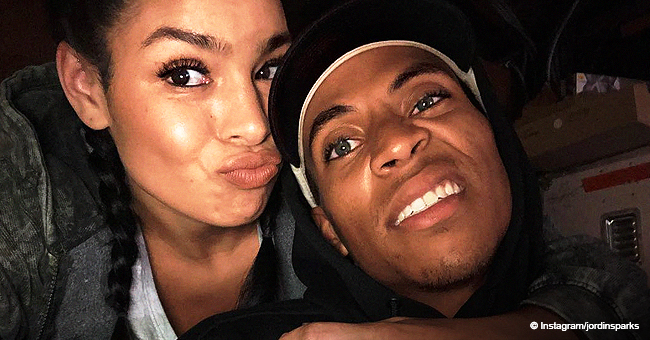 Jordin Sparks & Husband Celebrate Son's 1st Birthday with Sweet Posts
"American Idol" alum Jordin Sparks shared a touching birthday message for her adorable 1-year-old son.
It seems like it was just yesterday that singer Jordin Sparks and her model husband Dana Isaiah welcomed their first child Dana Isaiah Thomas Jr, whom they call DJ.
The tiny tot turned 1, and his proud mom marked the special occasion by posting a touching message for her baby on Instagram.
"This was this morning. My heart is just so full. God, thank you for allowing me to have the honor of being this sweet, healing spirit's Mama. I am so, so, so overwhelmed that he chose us. Happy Birthday my little bear! We love you more than anything!"
JORDIN SPARK'S BABY BOY IS ADORABLE
Jordin posted a sweet video which shows the adorable blue-eyed 1-year-old toddling to his mom and hugging her.
Jordin captioned the clip with a moving message of birthday wishes for her son, in which she thanks God for the honor of being D.J.'s mother.
JORDIN SPARKS: "DJ IS A JOYFUL BLESSING"
Little D.J. was born on May 2, 2018, at the Natural Birth Center & Women's Wellness, Los Angeles, with husband Dana in attendance.
"It was miraculously beautiful. Dana caught him with my midwife, Simona, and when he handed him to me, I was absolutely overwhelmed with joy. He was and is everything we imagined," Jordin revealed.
Fans might be surprised to discover that the "American Idols" winner met her future husband online
JORDIN SPARKS' SECOND ADORABLE POST
Not content with sharing the clip of her baby boy running to hug her, Jordin thrilled her fans by posting a photo of little D.J. in his daddy's arms. This time, the message is for Dana who celebrates his birthday on May 3 - one day after his son.
"You are our sun babe. Bringing life & shining your light onto us and all you encounter. It's true! Also, I must say the gift I got you last year has grown so well. Just look at how he adores you, babe! ? It's safe to say I'm so grateful you were born! HAPPY BIRFDAY, Grinch. I LOVE BEING YOURS!! I don't know what I'd do without you & I love you more than words can say!" she wrote.
A WHIRLWIND ROMANCE
Dana had just moved to L.A. when Jordin realized that she was pregnant. The couple had tied the knot just six weeks earlier in July, and Jordin admitted she was overwhelmed.
"It was about five days after [Dana] moved to L.A. He comes in and I go, 'I'm pregnant.' It was such a shock for both of us. I turned around and started bawling in the closet. I'm going to be completely honest, I was like, 'Oh my gosh.' Everything has been so crazy and fast-forward."
Jordin and Dana settled in to enjoy a lowkey and tranquil pregnancy and celebrated D.J.'s imminent arrival with a baby shower for close friends and family.
JORDIN WOODS AND DANA ISAIAH'S UNUSUAL INTRODUCTION
Fans might be surprised to discover that the "American Idols" winner met her future husband online - but not through a dating app.
Jordin met Dana's family, and her mother and his struck up a friendship. When Dana started thinking of moving to Los Angeles to further his career, his mother put him in contact with Jordin in a group chat.
The two struck it off immediately, and share a profound faith which they reveal is the cement to their union.
Please fill in your e-mail so we can share with you our top stories!