Oprah Bought $10K Wedding Dress for Her Former Student
Oprah takes her generosity a step further as she treats one of her former students to a wedding dress shopping spree. The media mogul shut down a famous store in Beverly Hills in search of the perfect dress that cost $10K.
Oprah Winfrey's generosity knows no bounds.  It's not enough that she sponsors the education of girls in South Africa, she makes sure they have the perfect dress when they become brides. 
IN SEARCH OF THE PERFECT WEDDING DRESS
Oprah went wedding dress shopping with the first of her former students from her Leadership Academy for Girls to walk down the aisle.
A photo from that day shared by the media mogul reveals the beautiful gown the bride chose. They were joined by two of Oprah's other former students at Saks Fifth Avenue in Beverly Hills.
Oprah shut it down for privacy and later shelled out a whopping $10,000 for Glori's dream wedding dress. "I've known these girls since they were 12 and 13 coming to my school," the talk show host wrote to accompany the pic. 
"Graduating from college. Grad school. Now our first wedding. Looking for the perfect dress. #biglifemoment."
In a separate photo the bride-to-be shared, it was amusing to see Oprah expressing her disapproval for one of the gowns Glori held up to her. 
"Mum O is like "nooooo that can't be it Glori," she describes the scene.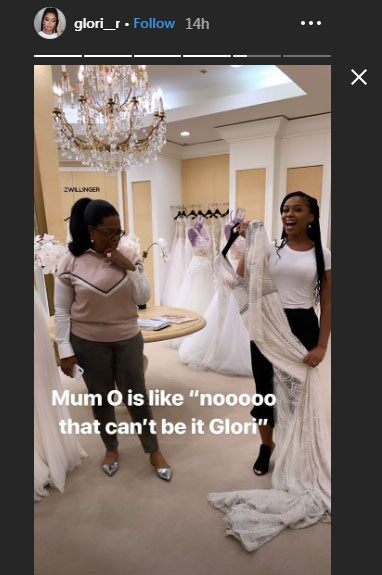 The day appeared to be a lot of fun with the two other students trying on dresses as well. They were also treated to lunch at Wolfgang Puck's famous restaurant, Spago.
MAMA O
Oprah is known to shower her girls with fancy outings. In 2015, she brought 20 of her former students to see the Broadway play "The Color Purple" and treated them to dinner at the famous Rainbow Room in New York. On several occasions, she has also welcomed her students to her home. 
Oprah's Leadership Academy for Girls was founded in 2007 and provides education for underprivileged teenage girls from grades 8 through 12 across nine provinces in South Africa.
The charismatic star maintains a close relationship with her students and treats them like her daughters as they refer to her as "Mom Oprah" and "Mama O."
THE DAUGHTERS SHE DIDN'T HAVE
Oprah was first hesitant at the idea of the girls looking up to her as their mother. In an interview with People in January, she said she didn't want their real mothers to think she was taking their place.
She confesses she doesn't have the mother instinct and is aware of what her role is to these girls. But she admits, "they're the daughters I didn't have."
Her main goal is to lead these girls to their greatest potential. Proud of the project, the 65-year-old told Variety in 2017, 
"My hope was that I would give them an opportunity to see the best of themselves reflected through an open mind, an open heart, to what is possible."
Oprah is not just teeming with generosity for these ladies but she has a far greater vision for them that extends to their total well-being.