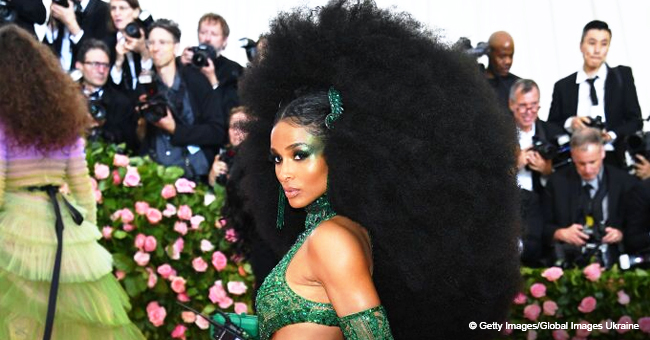 Ciara Rocked a Giant Afro & Green Dress at 2019 Met Gala (Photos)
If there had been an award for best hair at the 2019 Met Gala, singer Ciara would have won.
The Met Gala is always an excuse for celebrities to vie for the limelight with the most extreme fashion statements. Who can forget Lady Gaga's meat dress?
But Ciara may have just topped them all - literally - with the most incredible hair ever.
THE MOST GLAMOROUS EVENT OF THE YEAR
Celebrities vie to attend the Met Gala, the fundraiser for the Metropolitan's fashion department, which is by invitation only.
Of course, being invited will set a guest back a cool $35,000 a ticket, plus the cost of an extravagant costume which is de rigueur for fashionistas.
Ciara revealed that her outfit was inspired by Donna Summer's extravagant afros from the 70s
CIARA'S AMAZING HAIRDO
This year's theme for the Met Gala was "Camp: Notes on Fashion," and encouraged attendees to push the envelope of extravagance and glamour. Ciara took up that challenge with an astonishing afro that stopped traffic on the red carpet.
CIARA'S DAZZLING COSTUME EXTRAVAGANZA
Ciara revealed that her outfit was inspired by Donna Summer's extravagant afros from the 70s, and she wore a stunning emerald green Peter Dundas gown with provocative cut-outs and a sensuous skirt bedecked with ostrich feathers.
CIARA'S OTHER HAIRDO
The singer shared a photo on Instagram of an alternate hairstyle for the Met Gala which showed her hair swept up into two extravagant pompoms which lent her a mischivious charm.
However, her final choice was an absolute winner, and widely admired by the 500 celebrity guests vying for the media's attention at the Met Gala red carpet.
CIARA'S PASSION FOR FASHION
This is not the first time Ciara has demonstrated her witty take on fashion. In fact, her invitation to the Met Gala is as much due to her star status as her fashion sense.
Ciara has become known for her extravagant onstage presence and her flawless elegance on red carpets and events.
On her downtime, Ciara lets her hair down with her two children and her husband Russell Wilson and dresses like any other soccer mom.
Please fill in your e-mail so we can share with you our top stories!