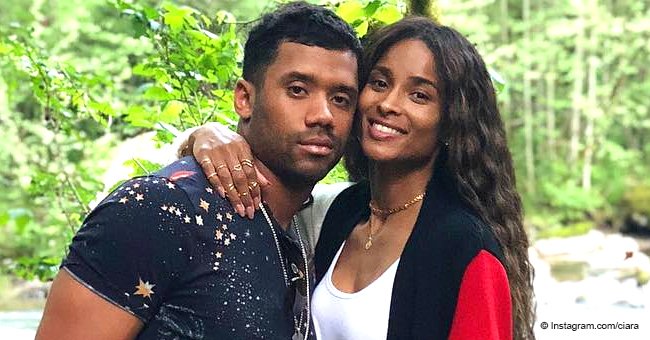 Ciara Is All Smiles Dancing with Son and Daughter during Yacht Trip with Russell Wilson (Video)
Ciara and Russell Wilson had fun under the sun on a family trip to St. Barts, and the "Level Up" singer made sure to celebrate International Women's Day by dancing around in a yacht with her adorable kids.
Ciara and her husband had no time to settle back home after a vacation in Brazil, where they enjoyed the traditional carnival, shoot some exotic photos, and visited the cultural spots of the tropical country. Immediately after, the two embarked on another trip, this time to St. Barts, with their brood tagging along.
As part of the trip, the couple got aboard a luxurious yacht in the company of their daughter, Sienna Princess, and her son, Future Zahir Jr. and all they did was bask under the sun and dance around in true family fun.
A video shared by Ciara on Instagram shows her dancing to samba alongside her kids while donning a one-piece black swimsuit. She held Sienna's and Future's hands as they jumped to the rhythm, and later, they all sat down on the ship's deck with Wilson, singing along to the Portuguese song while enjoying the view of the open sea.
"Celebrating US! We can do absolutely anything we put our minds to! Ladies let's Go! #InternationalWomensDay," Ciara captioned the post.
Fans took over the comment section to gush about the adorable family, but as it usually happens when Russell Wilson is pictured spending time with his step-son, some users had to drag rapper Future, Ciara's ex, into the equation.
"I'm in love with this!! Big ups guys!! Very inspirational!! God bless your family!!," wrote one user.
Another stated, "You are a great mom that is surrounded by a great man."
While others added, "Future somewhere kicking his yacht #chilloutgilligan" and "Anyone check on @future today?"
Ciara and Future split in 2014, a few months before welcoming son Future Jr. into the world. She started dating Wilson the next year, and they got married in a Victorian country house in Cheshire, England in 2016.
Russell and Ciara welcomed daughter Sienna in 2017, and the NFL quarterback has always been a loving father to both kids, despite the constant critics he gets from Future's fans for "trying to replace him" in the boy's life.
Future's comments about Wilson have only encouraged his fan's behavior, as he slammed the Seattle Seahawks player in a Beats 1 in Apple Music interview last January, saying:
"You'd already started going around my kid when Y'all started going together, and you haven't even talked to me. And Y'all got married, and she said 'Oh I want you to meet Russell.' Why would I want to meet him now?! Y'all already did the damage!"
However, neither Wilson nor Ciara have entertained the critics.
Talking about her husband a few years ago, Ciara revealed that she couldn't ask for a better support system. "I'm very blessed with having the best support system that I could ever ask for or every dream of," she explained.
"My husband is pretty awesome… You see Russell playing on the field; he's that same person at home. I think even cooler! He's an awesome support system to me and best friend, so that makes a world of difference."
Please fill in your e-mail so we can share with you our top stories!