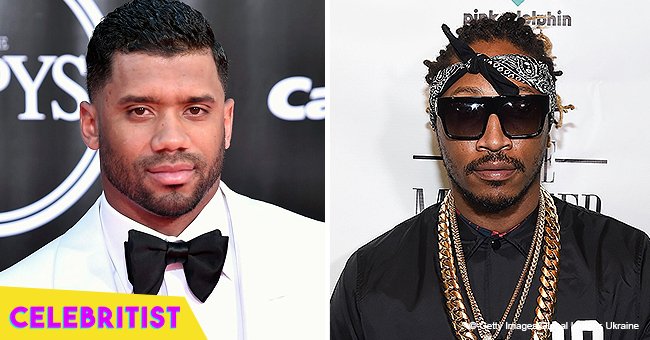 Russell Wilson slammed after sharing picture with Ciara and Future's son on 'guys night' out
Russell Wilson has never been afraid to show off the fantastic bond he has with his stepson, Future Jr., whom his wife Ciara shares with ex-fiancé, rapper Future. However, some fans believe Wilson shouldn't post the boy on social media because it can hurt his "real dad's" pride.
Russell and Ciara married in 2016, and they have now welcomed daughter Sienna. But even before the baby was born, Wilson has showered baby Future with all the love and attention the little boy deserves. He treats Future like his blood, and Ciara couldn't be happier about that.
But while Wilson and his wife mind their own business, taking care of their children and being a happy family in general, some fans, or haters in disguise, have made it their mission to slam the NFL star for his relationship with the boy.
A BOYS' NIGHT OUT
A few days ago, Wilson shared on Instagram an adorable video with Future Jr. on a "guys night out." He took the 3-year-old to watch a game of the Golden State Warriors, and they had the better seats in the basketball court. The boy was excited about the game, and he seemed comfortable cuddling to his "other dad" while donning his basketball t-shirt.
But people were quick to call out Wilson for allegedly disrespecting Future by posting videos and pics with the rapper's son. One angered user wrote:
"You shouldn't wanna keep posting another man's child on your social media like he's yours, that's not cool. I understand you're there for him and all day, but you should be a man in stop posting. [sic]"
Another added:
"@future come get yo kid."
And a third one chimed in:
"Does his biological dad EVER see him I wonder???"
Of course, the hate was outweighed by the love in Russell's mentions, as most people commend the quarterback for being such an excellent example for other stepdads out there for stepping in and taking care of the boy.
"BEST ROLE MODEL...not only for little Future...but for all stepfathers...you would never know it's not his son...there is so much love between these two..it warms my heart," wrote one lovely fan.
CIARA SLAMS HER BABY DADDY
Earlier this year, TMZ reported that Ciara was trying to take Future to court accusing him of being an absentee father.
While the rapper is still present in his son's life, it seems like he was missing most of his scheduled visits, and every time Future Jr, would flight to Georgia, where the rapper lives, he spent his time with his great-grandmother or grandmother, and Future was nowhere to be found.
The singer also revealed that the constant traveling was affecting her son's health and that every time he got back from Georgia, he was irritable and exhausted, causing him to have breakdowns at school.
Future never stated his version of the story, and the ex-couple has kept their co-parenting issues out of the spotlight ever since.
While is not clear how often Future Jr. gets to see his father these days, one thing's for sure: he loves Wilson just as much, and the quarterback has undoubtedly become a central paternal figure in the boy's life, whether people like it or not.
Please fill in your e-mail so we can share with you our top stories!