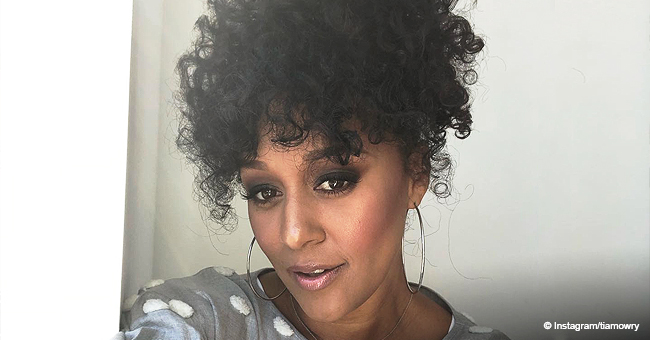 Tamera Mowry Admitted to Be Overprotective of Her Mom after Her Divorce 4 Years Ago
Tamera Mowry recently revealed on "The Real" that her parents have been divorced for four years. The TV host admitted that it took her a while to get used to her new reality, and now that her mom is back on the dating pool, Tamera has grown a bit overprotective.
The 41-year-old mother of two revealed last week on "The Real" that her parents, Timothy and Darlene Mowry, got a divorce four years ago.
Tamera explained that although she loves that her mother is "living her life like it's golden," she has become a bit overprotective over every little thing Mrs. Darlene is doing with her life.
"I feel like, if we live together, our roles will be reversed. I'd be like, 'What you doing tonight? Who? Oh, you didn't come home until what? Who are you dating?'" Mowry admitted.
She continued by explaining that, although it's been a few years now, it took her a while to accept and move on from her parents' divorce, saying:
"I am so over-protective over my mom. And this is new. I mean, they've been divorced for four years, but it took me a while to accept that. And now my mom is out there… I guess she's dating. But she just; she's very private."
While Mrs. Darlene seems to keep her love life on the low and away from the prying eyes of her children, her ex-husband has already introduced his new girlfriend to Tamera and her siblings.
"I've met his girlfriend. She's Asian," Mowry admitted, even giving a shout out to the woman in question, "Nahna, hi, Nahna! I love you so much!" she said.
Tamera explained that maybe her mom is not as open as her dad because she knows Tamera will be "very opinionated." "And I will be hard on her like she was hard on me. So, she can't just date just anybody," she added.
"LET HER LIVE!"
When asked if her mindset was wrong, Mowry got different reactions from her co-hosts. While Jeannie Mai and Adrienne Bailon admitted that, yes, it was wrong, they also understood where Tamera is coming from with her overprotectiveness.
Meanwhile, Loni Love explained to Mowry that she has to let her mom love her life. "She doesn't have to tell you anything. She's grown," Love stated, adding:
"She had you. You didn't have her. Check yo'self. Okay? Leave her alone! Miss Darlene, you do what you want to do!"
TIMOTHY AND DARLENE'S STORY
Timothy and Darlene Mowry are both veterans of the U.S Army. They got married at 18 in what Tia Mowry described as a "shotgun wedding," and welcomed their first daughters, twins Tia and Tamera while stationed in Germany in 1978.
Later, they moved to Texas with the family and welcomed two more kids, sons Tahj and Tavior, before relocating again to Hawaii. However, they were soon back in Texas, where the entertainment bug bit the twins.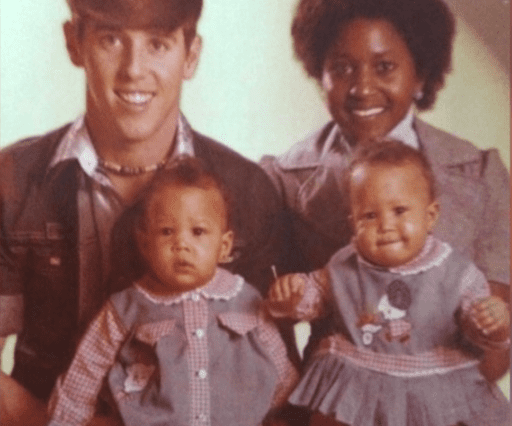 Darlene and Timothy Mowry with Tia and Tamera. | Source: YouTube/Tia Mowry's Quick Fix
"What my mom ended up doing, and a lot of people don't know this, is during the summer, she had taken me to L.A., and she made a promise to me. She said, 'If you book something, whether that's a commercial, whether that's a television show, a guest spot, then I would move the family to L.A.' " Tia Mowry recalled in an episode of her Facebook Watch show. "I was like, 'Okay, let's do this!'"
Tia and Tamera eventually booked something, but it wasn't that easy for Mrs. Darlene to pick up their stuff and move, she had to present her case to the Army so they would let her go.
When they got the green light, however, it was only Darlene and the kids that moved to Los Angeles.
"They would only let one of my parents out of the army, so my dad actually had to stay in Texas for a while. He was later transferred back to Germany for another two years," Tia explained.
Eventually, Tia and Tamera were cast on "Sister, Sister," which was the beginning of a long and prosperous career for them and their family.
Although both Tia and Tamera had praised their parents in the past for being a great example of what a marriage and a united family looks like, it seems like Darlene and Timothy reached the breaking point of their relationship four years ago.
Either way, the Mowry's are one of the most united families in Hollywood, and they probably have a working system to keep it that way.
Please fill in your e-mail so we can share with you our top stories!