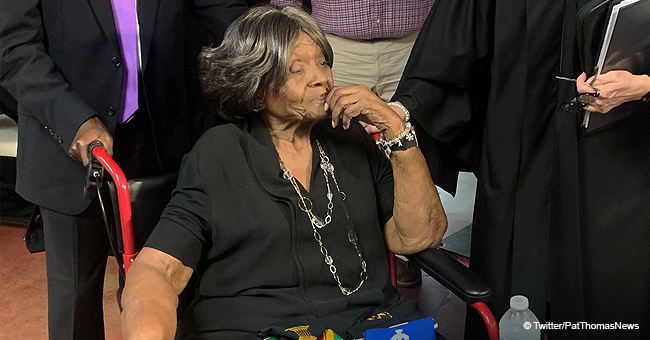 U of Alabama's 1st Black Student Who Was Expelled in 1956 Gets Honorary Degree
History was made in the state of Alabama when Autherine Lucy Foster who was the first African American student of Alabama State University was awarded an honorary degree.
Foster finally triumphed in the face of adversity! Civil rights activist, Autherine was given an honorary doctorate by UA for being the first black woman to attend a white school in the state of Alabama.
The 89-year-old was very happy for the remembrance and gave her acceptance speech from a wheelchair. Foster stated that she is thankful for opportunities like hers as it allows people to talk about the past while looking to the future.
In 1956, Lucy who had first applied to school at UA was denied admission because of her color. She, however, refused to lose hope and four years later, she was enrolled in the school. But her enrollment, unfortunately, caused riots on campus and she was thereby expelled from the school just three days after the resumption.
She had taken classes for just three days before she was sent parking after news of her admission sparked racist protests and death threats against her.
Years later, Foster earned a Masters degree from the university in 1991 (more than 35 years) after her 1956 dismissal was annulled in 1988.
Lucy re-enrolled at UA with her daughter, Grazia, and the two would later graduate together. According to a press release, Lucy's part in helping desegregate the all-white University got her a pair of scholarships, two landmarks on the campus and awards. She's also named as a UA legend and also has been inducted into the UA students' hall of fame.
The university president, Stuart R. Bell also released a statement, and according to him, it is an honor to present Mrs. Foster with the honorary award because her determined spirit, gracious heart for helping others and her belief in the value of education and human rights position is an excellent example of what one can achieve in the face of hardship.
Please fill in your e-mail so we can share with you our top stories!