First Images of Prince Harry Cradling Baby Sussex Revealed
The Duke and Duchess of Sussex have shared the first glimpse of their newborn son. The pair walked out to the Press together while Harry cradled the newborn in his arms.
Baby Sussex made his very first public appearance today at a photocall. He appeared with his father, Prince Harry and Meghan in the grounds of Windsor Castle, where the new family have been living since the historic birth on Monday.
The baby boy was lovingly cradled in his father's arms as his mother watched attentively. The appearance was also Meghan's first public appearance in six weeks. 
"We are so thrilled to have our own little bundle of joy"

The Duke and Duchess have introduced #BabySussex to the public! #RoyalBaby pic.twitter.com/yrWciXHrhX

— The Royal Family Channel (@RoyalFamilyITNP) May 8, 2019
The couple appeared to be extremely excited and giggled happily. They looked into each other's eyes as they spoke and Harry snuck loving glances at his son as the baby snoozed in his arms. 
The couple spoke for only a few minutes from inside the majestic St George's Hall at Windsor Castle. A radiant Meghan said,
"It's magic, it's pretty amazing. He's just been the dream so it's been a special couple of days."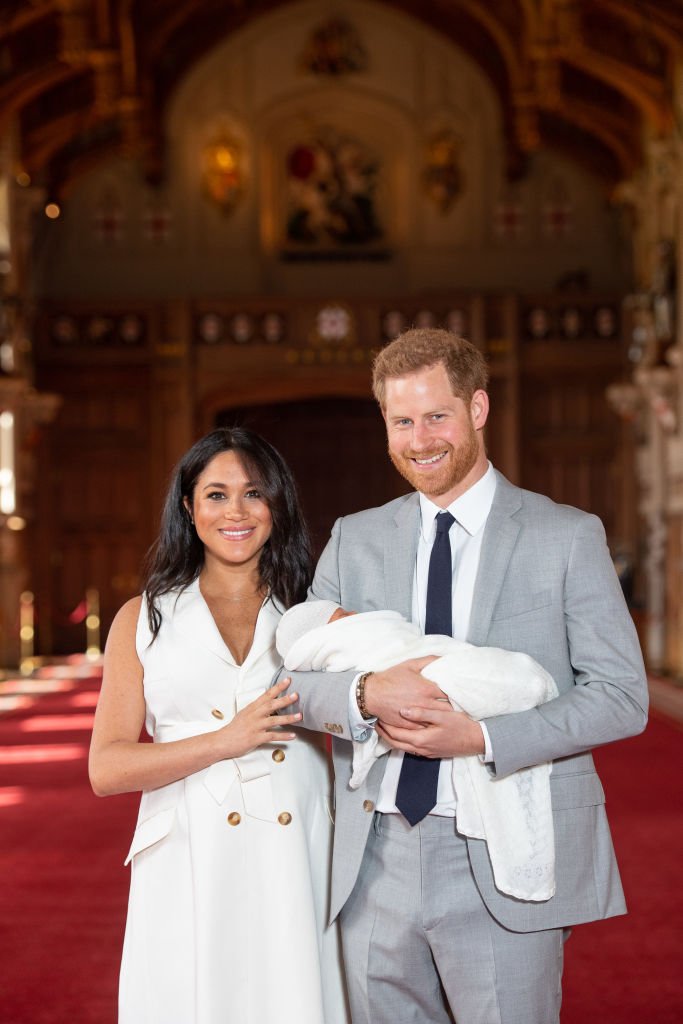 "I have the two best guys in the world so I'm really happy. He has the sweetest temperament, he's really calm." continued Meghan.
The couple revealed they planned to present their newborn to the Queen later today. They added that they met the Duke of Edinburgh shortly before the photocall.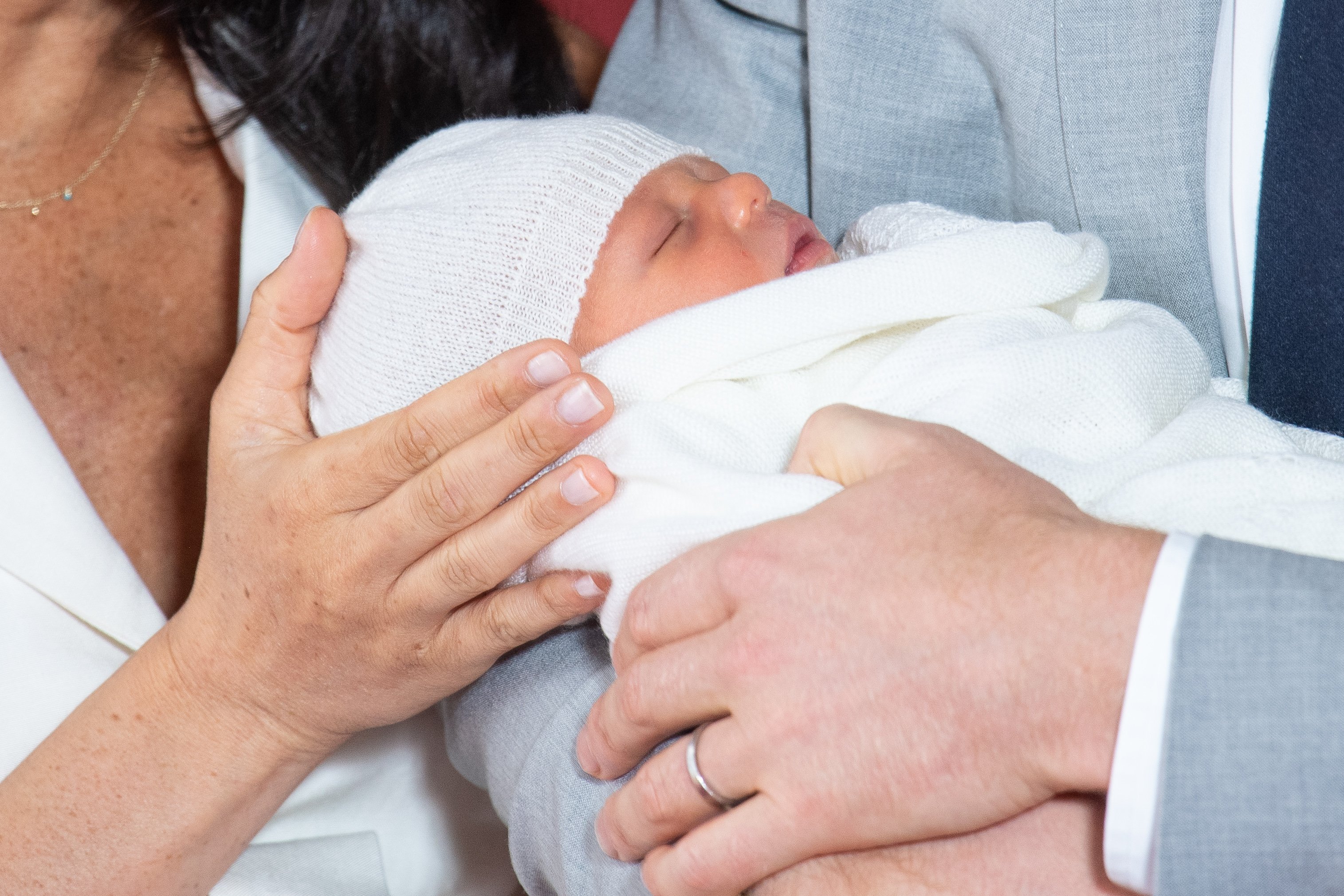 Asked who the baby takes after, Meghan admitted they were "still trying to figure that out." Harry chipped in saying:
"Everyone says that babies change so much over two weeks we're basically monitoring how the changing process happens over this next month really. But his looks are changing every single day, so who knows."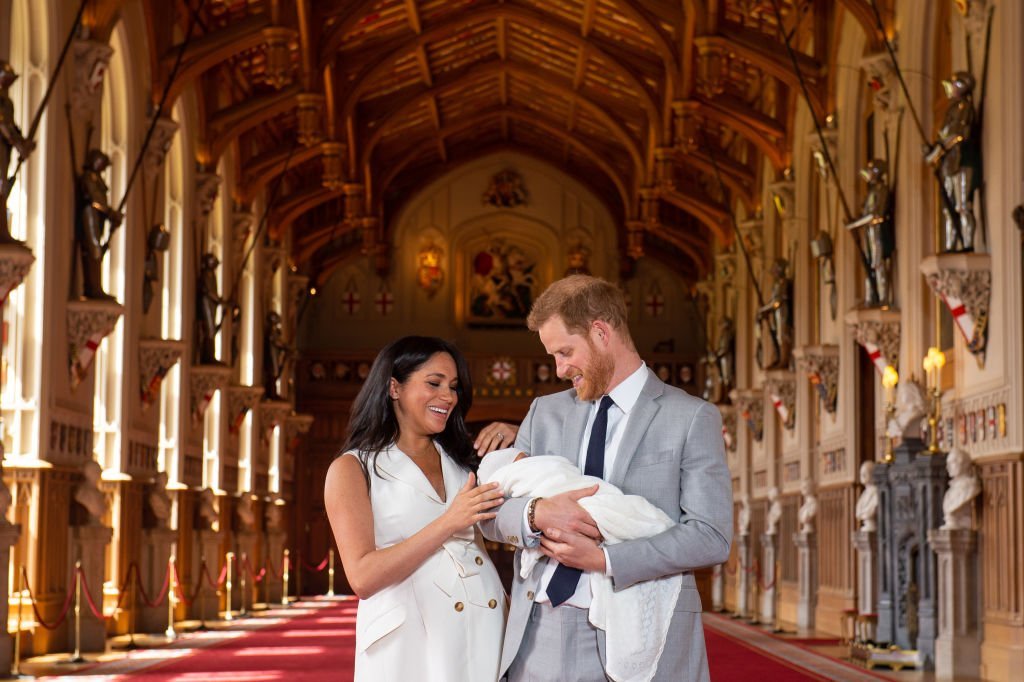 Harry added that he is enjoying parenting. He called the experience "great" and "amazing" and went on to say that both him and Meghan were looking forward to spending some "precious times with him [the newborn] as he slowly, slowly starts to grow up."
"It's only been two and a half days, three days, but we're just so thrilled to have our own little bundle of joy," said the Prince about parenthood.
The baby, whose name has not yet been announced, is seventh in line to the throne. He is the Queen and the Duke of Edinburgh's eighth great-grandchild and the Prince of Wales's fourth grandchild. 
Baby Sussex arrived at 5.26am on Monday, weighing 7lb 3oz. Meghan, who had been more than a week overdue, is believed to have gone into labor late on Sunday.