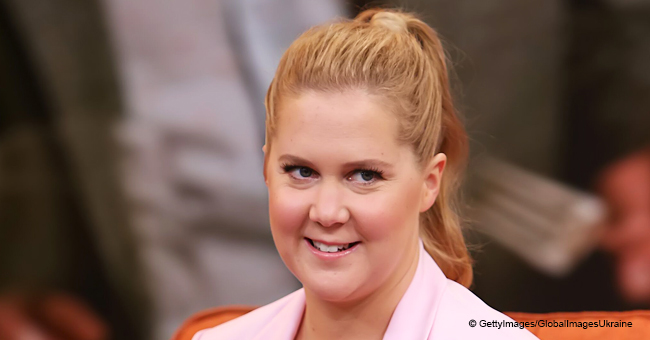 Amy Schumer's Baby Name Puzzles Fans
Amy Schumer revealed her newborn baby's name through a post on Instagram which puzzled fans, thinking that the name came from a famous comedian.
Amy Schumer and Chris Fischer welcomed their first baby together on Sunday, May 5, as she announced the great news on her Instagram account. The post came with a photo of their small family and a caption which read:
"10:55 pm last night. Our royal baby was born."
Another post appeared the following day which included a sweet photo of Fischer carrying his son by his chest, with the caption that revealed the baby's name, Gene Attel Fischer.
Apparently, Attell is a reference to their friend, and fellow comedian, Dave Attell, who invited Schumer to join him in his show at Caroline's, New York City in January. However, some of her fans believe that the baby's posted name on Instagram is but another stunt from the comedian, following her many jokes about her pregnancy.
Shortly after, sentiments on the baby's name showed on Twitter, highlighting that Gene Attell does not sound so good when said faster than usual. One tweet read:
"Both good names on their own, but sounds an awful lot like Genital if you say it out loud. Are we sure this isn't a bit? She's going to announce the real name soon right?"
"Amy schumer naming her son gene attell feels like a sick joke and i need to log off the internet. SHE NAMED HER CHILD SOMETHING THAT PHONETICALLY SOUNDS LIKE 'GENITAL.' I CAN'T!!!!!!" read another.
Last February, Schumer experienced complications during her pregnancy, which resulted in the cancelation of her tour. She suffered from hyperemesis gravidarum, a condition during pregnancy where one has severe nausea, vomiting, electrolyte disturbance, and weight loss.
She announced on her Instagram account and shared that she was not "cleared to fly" for weeks because of the complications, hence the cancellation of the tour.
Schumer also reassured her fans that she and the baby were then healthy, despite the illness she had, given she kept "a pretty good attitude about it."
Please fill in your e-mail so we can share with you our top stories!