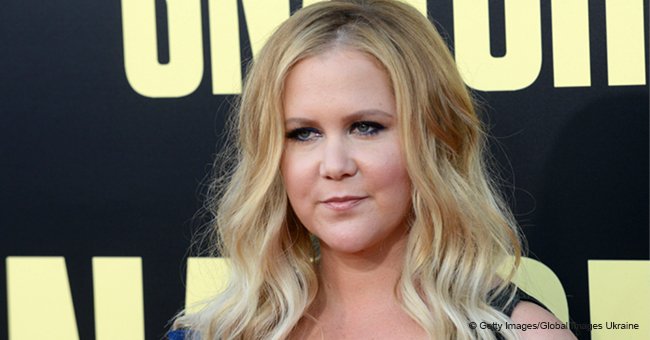 Amy Schumer Cancels Her Tour Due to Rare Pregnancy Complication
Amy Schumer canceled the remained of her comedy tour due to complications from her pregnancy.
The actress took to Instagram on Friday to let fans know what was going on with her in a lengthy post.
Apparently, a rare illness known as hyperemesis gravidarum continues to plague Schumer who is now in her third trimester.
She wrote:
"Due to complications from hyperemesis I am not cleared to fly for the next couple weeks. I am going to cancel the remainder of my tour. Refunds are available at point of purchase."
The "Trainwreck" star is still puking and regularly feels sick. This is the first child she will have with husband Chris Fischer.
She explained:
"The baby and I are healthy and everything looks good. But I am in my 3rd trimester and I am still nauseous all the time and vomiting. I vomit mostly every time i ride in a car even for 5 minutes."
Schumer assured that she has "a pretty good attitude about it" and that she usually gets a couple hours of relief for the day. But, she says "mostly it sucks."
Reminding her fans in a humorous manner that she definitely doesn't want to give up on them, she said:
"I wanted to push through and do my shows. Because I hate letting people down and I love stand up and money!"
However, as her fans would agree, her health is top priority right now for the sake of the coming baby. The 37-year-old concluded by jokingly mocking her concerned followers.
She said:
"I know you guys gets and people are like. [Expletive] are you ok? Take it easy but it's still embarrassing to have to cancel."
Fans disagreed in the comments, saying that there's nothing embarrassing about putting family first.
This will be the second time Schumer cancels due to her current pregnancy. Back in November, she opted out of her Texas show due to the same illness.
Schumer is certainly taking it in stride. At the time, she encouraged fans to tag her in posts showing their kids so as to raise her spirits. Schumer will be disappointing fans in Dallas, Houston, Phoenix, Seattle, and Oakland.
Nausea, weight loss, and vomiting are all symptoms of the uncommon sickness. The actress shared the first picture of her round tummy back in October.
She posted a group picture featuring her friend and her sister Kim Caramele. She wore a gray long sleeve shirt and black maternity leggings. She had the shirt lifted to show some of her bare stomach.
The "I Feel Pretty" star certainly has a story to tell after all her experiences. She herself came from parents who owned a luxury baby furniture store.
Schumer, who had a bar mitzvah when she was younger, began stand-up early on. She did one of her first stand-up sets at the religious occasion.
Schumer went on to attain her theatre degree from Towson University and then take classes at the William Esper Studio of New York. After doing an interview with legendary Howard Stern, Schumer began her acting career.
Now a veteran of the entertainment industry, Schumer relaxes with meditation and acupuncture sessions. Now and then, she also crashes at fellow actor's apartments and eats their cake as she did to Jake Gyllenhaal.
Please fill in your e-mail so we can share with you our top stories!