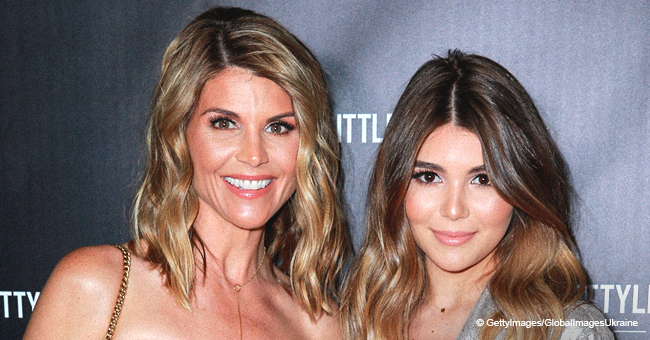 Lori Loughlin's Daughter Olivia Jade Reportedly Broke up with Her Boyfriend Amid College Cheating Scandal
In the short time since the college admission scandal broke, Lori Loughlin's daughter, Olivia Jade's life had changed entirely as she is now also newly single.
The consequences of the scandal had far-reaching effects for Olivia Jade. She moved out of her parents home, quit attending USC out of fear of being bullied, and most recently stopped dating the model and musician Jackson Guthy.
Olivia Jade initially stayed with Jackson after she made the decision to move out of her parents Lori and Mossimo's home but have reportedly found a place of her own.
While the case around the admissions scandal is ongoing, Olivia Jade is trying to move on with her life as a source told PEOPLE, "Olivia is doing well and is really excited to be moving into her own apartment. She's leaning on and hanging out with close friends at the moment."
The 19-year-old YouTube star and her recent ex-boyfriend didn't part on bad terms as the source added, "Jackson and Olivia were hanging out for several months but decided just to be friends."
Olivia Jade's rep is yet to respond to PEOPLE's requests for confirmation.
Last week a source shared why Olivia Jade decided to move out of her parents' Bel Air home almost two months after the scandal broke.
"Everything that's going on with her parents is very stressful for her, and she needs some space. She's doesn't feel that it's healthy for her to live with her parents right now," the source told E! News.
Olivia Jade's thriving YouTube channel took a hit because of the scandal, and the source added that she is eager to get back to rebuilding her business.
"She wants to focus on rebuilding her business and not deal with daily negative attention," the source said. "This is the healthiest thing for her right now, and she wants to do what's best."
The social media influencer lost endorsement deals and her partnerships with both TRESemmé and Sephora, as a source told PEOPLE, "Olivia is still distraught and embarrassed. She hasn't been home much. She is very angry with her parents. She just wants to figure out how she can rebuild her brand."
Last month Lori Loughlin and Mossimo Giannulli pleaded not-guilty to charges of money laundering conspiracy and mail fraud. However, with the plea, the couple opened the door to the possibility of a trial.
Apart from the fact that a conviction of guilt can lead to 20 years in prison for each count, prosecutors can also call Olivia Jade and her 20-year-old sister Isabella Rose to testify.
Please fill in your e-mail so we can share with you our top stories!