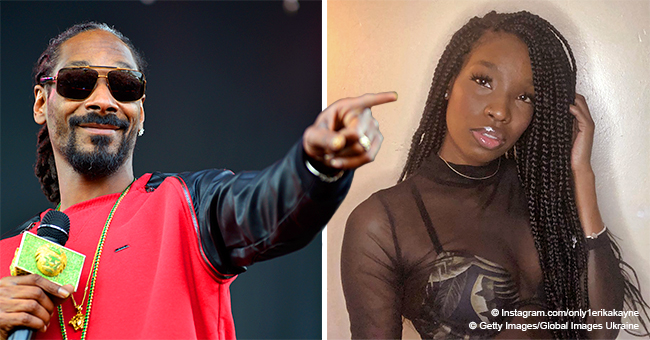 Snoop Dogg Invited Viral Singing Waitress to Sing at His Event (Video)
Erika Kayne is the sensation of the moment. After a video of her showing off her vocal talent while ringing costumers at her dad's restaurant went viral, the young woman has been booked and busy. However, when "uncle Snoop Dogg" invited her to sing at his DJ set, she couldn't say no.
The Cleveland rising star has earned national attention in the past two weeks, and it's all thanks to a video that spread like wildfire of her working at her dad's restaurant, KeVante's Restaurant & Lounge.
In the clip, recorded and shared by comedian Justin Whitehead, Erika can be seen effortlessly belting out Jazmine Sullivan's "Need U Bad" while working behind the bar and ringing up customers without missing a single beat.
Kayne's vocals and showmanship, even behind a bar, caught the attention of stars like Kandi Burruss, Jazze Pha, SZA, and Jazmine Sullivan herself.
Snoop Dogg left a comment on the original video saying "Wow where she at she is amazing." And later reposted it to his own Instagram page, adding:
"No, she didn't work the register and the mic. [fire emojis] Yes she did. That's black girl power she needs a deal. Pronto."
To prove he was serious about being impressed with Erika's talent, Snoop invited the singer to join him at his set as DJ Snoopadelic at Legacy VNYL nightclub in Plano, Texas, on April 28.
There, the hip hop icon introduced Erika to his audience saying:
"I seen her at work doing orders and s**t and she was singing her a+s off, and I just love her f***ing vocals. So long story short … We're family now, so I want her to sing something right now. I know we don't do s**t like this, but this girl can sing. I need y'all to hear her sing. So I'm gon' put on some good music, and I'm gon' let her do her thing."
Exuding confidence, Erika then took the mic and stunned the club goers with a flawless performance of Anita Baker's "Caught Up in the Rapture."
Kayne shared a clip of the unforgettable moment on Instagram, stating in her caption how grateful she was by the opportunity:
"I can honestly say a week in a half ago I didn't think I this would be life for me. I've always wanted this, and my dreams are unfolding right before my eyes. I want anyone who's ever thought or is thinking about giving up and thinking your dreams aren't attainable they are I'm living proof !!!! Omgggggg @snoopdogg Said sing, and that's what I did!"
In the past two weeks, Erika has also appeared on Steve Harvey's show, where she got the chance to meet and sing with Jazmine Sullivan.
She also appeared on ABC's "Strahan and Sara," and performed an original song called "Heart For Sale" in front of Keke Palmer and Ashanti, guest hosts for the occasion.
It seems like after working so hard on her music, Erika is finally on the right path to achieve her dreams. Funnily enough, she confessed this isn't the first time someone records her singing her heart out. It just happens; this is her moment.
Please fill in your e-mail so we can share with you our top stories!