Ivanka Trump Shares Rare Throwback Photos of Her Mom
On Sunday Ivanka Trump celebrated Mother's Day with rare throwback snaps and a sweet message to her mother Ivana much to the delight of followers.
Ivanka posted four throwback pictures that she captioned in tribute to her 70-year-old mother:
"While every day for you should be Mother's Day, it's great to have a day for us to slow down, reflect and express to you how much we appreciate you and all that you do for our family. ‬‪Thank you, mom!"
Fans quickly responded to the Mother's Day tribute with positivity. "Oh my.. The best photos. Awesome!" a follower posted while another added, "Strong women make strong daughters! She should be proud!"
Followers also took the time to wish them a happy day as one fan wrote, "Such an elegant woman!! Happy Mother's Day to you both!"
Ivanka along with her brothers Eric and Donald Jr. was born from Donald Trump's first marriage to Ivana that lasted from 1977 until their divorce in 1992.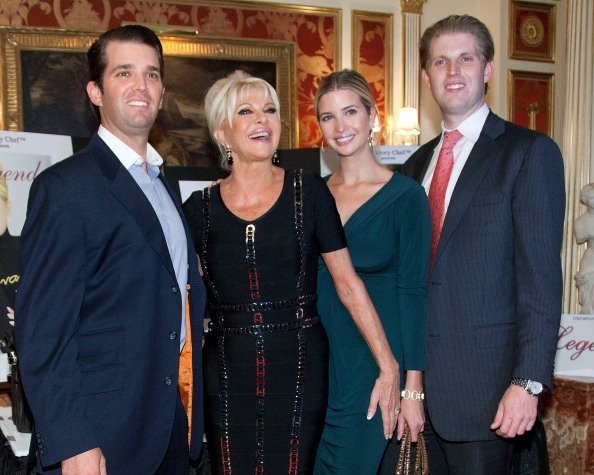 Donald Trump married Marla Maples in 1993, a year after his divorce from Ivana, and had a daughter, Tiffany. However, their marriage lasted until 1999 and Donald would only marry Melania six year later. Together they have Barron, Trump's youngest, born the year after Melania and Donald got married in March 2006.
As the oldest daughter and second oldest child of Donald Trump, Ivanka is known for posting throwback pictures on special occasions like Mother's Day and birthdays.
In February this year, Ivanka also wished her mother Ivana Trump a happy 70th birthday with an adorable picture of herself and her mom taken many moons ago.
"Mom, You are a source of joy and wonder to all who know you," Ivanka wrote. "I love you very much! Happy birthday! (or in your own words 'never older, it just takes longer getting ready every morning!')"
Donald Trump's Mother's Day message didn't elicit the same response from fans his daughter's had.
On Sunday, Donald posted  a picture of flowers in the White House garden along with the words, "Happy Mother's Day from President Donald J. Trump."
Because the message had a generic ring to it and failed to mention Melania, followers soon pointed it out:
Another fan reiterated on the impersonal feel of Donald Trump's message and wrote:
While in the spirit of throwback pictures and with Ivanka Trump being a mother of three herself, she celebrated the third birthday of her youngest, Theodore on March 27, with an adorable throwback picture earlier this year.