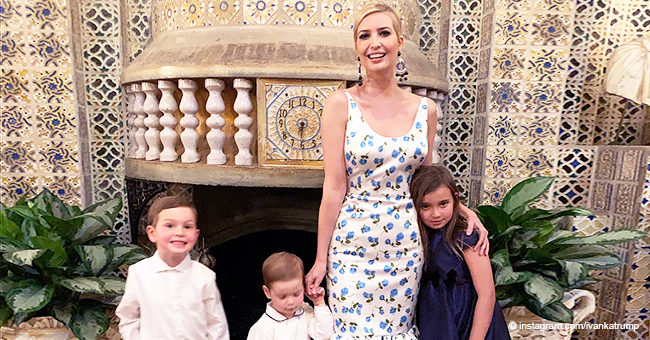 Ivanka Trump Shares Sweet Throwback Photo as She Celebrates Youngest Son's Birthday

Ivanka Trump, one of the children of President Donald Trump, took to Instagram to wish her son, Theodore, happy birthday by posting an adorable throwback.
The 37-year-old lady, who is currently the Advisor of the President, is married to Jared Kushner since 2009. Together, they have had three children so far, including Theodore, born on March 27, 2016.
When the boy turned three, the proud mother shared a very cute throwback showing her in a pale pink bathrobe and without makeup holding her son (who was a few months old at that point).
THE PROUD COUPLE
Jared, 38, was also portrayed in the pic and he was wearing a black ensemble while smiling at the camera showing how proud he was about being with his wife and third child.
"As if being Donald Trump's daughter isn't the hardest job in the world."
For the caption, Ivanka wrote:
"Happy 3rd birthday, Theodore! You have brought joy and laughter into our hearts and home each day of your little life."
Jared, on the other hand, did not posted a tribute to his son. However, he has not shared anything in his Instagram account since June last year, so it was not a surprise.
REUNION AFTER THE PHOTO
Ivanka uploaded that post soon before she, her father, and Vice President Mike Pence met in the Oval Office with Fabiana Rosales, the wife of Venezuelan President Juan Guaido.
Fabiana is rallying international support for her husband who is trying to kick Nicolas Maduro, now known as the "usurper" President of Venezuela, out of Miraflores, the executive mansion and office of the President of Venezuela.
DETAILS OF THE MEETING
During the reunion, POTUS said that Venezuela used to be one of the richest countries in the world and that it is now one of the poorest ones. Apart from that, he listed some of the difficulties the citizens of that country are going through, including the electric and water crisis.
Not only the US but also 50 other countries have acknowledged Juan Guaido as the real president as Nicolas Maduro's re-election held last year was "illegitimate." Fabiana is expected to meet with members of Congress and speak at a conference with the ambassador recognized by the Trump administration.
IT'S HARD TO BE DONALD'S DAUGHTER
Recently, the First Daughter made headlines by wearing a $2,750 silver Markarian dress while attending the annual Gridiron event in Washington, D.C. During the event, she joked about her life being Donald Trump's daughter.
"The press seems to think it's ironic that I, born of great privilege, think people want to work for what they are given. As if being Donald Trump's daughter isn't the hardest job in the world," said Ivanka.
Please fill in your e-mail so we can share with you our top stories!