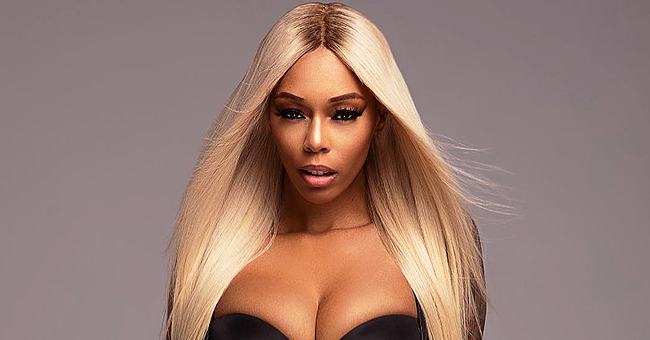 Instagram/adizthebam
Bambi's Allegedly to Blame for Lil Scrappy and Ex Erica Dixon's Co-Parenting Situation
"Love and Hip Hop Atlanta" on Monday aired an episode about Erica Dixon and rapper, Lil Scrappy's issues with the co-parenting of their daughter, Emani ever since they separated.
The episode shows how Scrappy has little or no communication with Erica and only pays child support. Both momma Dee, (Scrappy's mom) and Mignon, (Erica's mom) were present in the episode.
Momma Dee spoke on talking to her son about the issue saying,
"I reached out to Scrappy too, and I'm like 'Hey we all like need to have a conversation,'" he was like, "I asked her, and she was like we don't need to sit down and talk to you" I was like "ok."
The clip further showed Erica stating that she and scrappy used to communicate, but it reduced drastically when Scrappy's current girl, Bambi came into his life.
"Scrappy and I only communicate via text message, before, if Bambi wasn't around, You wanted to hold a conversation and talk and then all of a sudden when she's around, you don't want to speak, you don't want to say nothing. Eventually, that turned into no communication, period. Everybody needs to be able to communicate with each other for the better good of Emani."
These statements by Momma Dee and Erica suggest that Bambi influences the rapper's new behavior.
Later on in the episode, Scrappy's mum went to her son's residence to discuss the matter further. On getting there, Lil Scrappy revealed that he and Bambi are okay with the way things were and there was no need for communication with Erica as long as he pays child support; which to him is the only reason to be involved with her. Bambi, however, agrees with her boo stating that "the situation that is currently in place works for everybody."
This issue might not be suitable for Emani because she'd definitely need the support of her dad and mom growing up. Hopefully, the rapper changes his stance on the issue, and even though his involvement with Bambi might hinder that, it's still his decision to make ultimately.
Many people on Twitter were however not too pleased with the decision, and many took to the social media app to call the rapper and his girlfriend Bambi out.
@LuMizzlu says,
"Whatever is going on between Scrappy, Erica, and Bambi they need to fix it, Ya all really getting along is what's best for Emani #lhhatl.
@uppityinsomniac also stated that,
"I thought Bambi was mature, but her stance on Erica is ugly and Scrappy ain't shit for treating his baby mama like that. Bambi better pray they make it bc if they don't, I don't wanna hear NOTHING from her about Scrappy's ass & how he's treating her #LHHATL."
Hopefully, the whole family tries to work it out for the sake of their baby girl, Emani.
Please fill in your e-mail so we can share with you our top stories!