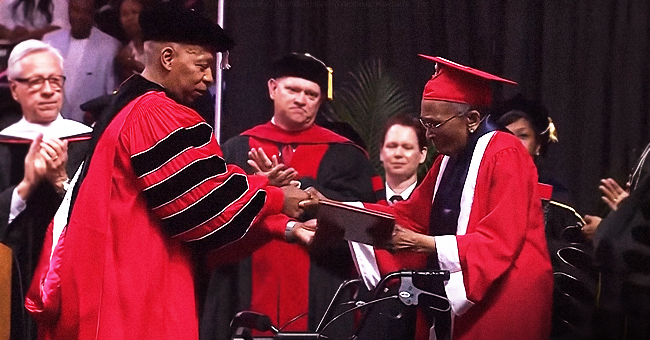 Youtube/NBC News
WWII Vet, 99, Attends Graduation 70 Years after Finishing Degree

Seventy years after Elizabeth Barker Johnson graduated from what is now known as the Winston-Salem State University, (WSSU) she was given the honor to walk across the stage and receive her diploma at the school's 2019 commencement ceremony.
On Friday, history was made at WSSU when the school awarded a 99-year-old World War II Veteran her diploma.
Everything seemed to stand still at the moment when Johnson was called unto the stage to receive the honorary award. The emotions was unbelievable as people in the audience rose up to give the old lady a standing ovation amidst cheers from various well-wishers.
Elizabeth according to "WXII12" was awarded the honorary degree after circumstances led to her receiving her diploma through a mail seven decades ago.
In 1949, Elizabeth graduated from the college with a degree in education but unfortunately couldn't make it to her graduation ceremony because she had begun working as a teacher.
Johnson who also served in the Army during World War II was a member of the 6888th Regiment, the only all-female, all-African American regiment that was stationed abroad during the war. As a young and vibrant lady then, she was stationed in Kentucky, France, and England where she drove trucks and worked at military Post offices during the war.
Now, at this age with kids and grandkids, Johnson couldn't believe this would happen for her.
Johnson's family who were present at the event were elated for her as they believed that this is a well-deserved honor. The veteran's daughter, Scott disclosed to "WXII12" that,
"Just happy to be here. Just thrilled. Really just thrilled. I really don't know how to explain it that she is going to get to do this. I guess I never honestly would have dreamed that this would happen."
Scott also revealed that without sentiments, her mother is one of the best people she knows and that one of the core values Johnson instilled in her over the years was,
"Just to treat everybody the same. She is just such a, I think a wonderful individual. I am not saying that because she is my mother I just think she is a wonderful individual."
But Scott wasn't the only one who couldn't believe that this amazing thing was happening, Elizabeth also revealed that,
"I was excited. I can't explain how excited I really was," Johnson told the news station. "I'm just so excited about everything that's happening. I can't really believe it's happening."
Elizabeth who taught in schools for over three decades explained that after leaving college, her decision to coach students was based on the fact that she wanted to make a change. The 99-year-old also confessed that she thought teaching the younger generation will help her instill knowledge and life lessons into them while they were still young.
However, the elderly lady looked dapper in a red graduation cap,, and gown and the audience couldn't have been happier to witness and be a part of her story.
Please fill in your e-mail so we can share with you our top stories!