Becky Carey Shares Heartbreakingly Beautiful 'Just in Case' Wedding Dance with Terminally Ill Father
Becky Carey's emotional story is fast going viral after she shared a video clip of herself dancing "just in case" with her terminally ill father. 
Timothy Carey battled pancreatic and prostate cancer for about four years, but the disease worsened, destroying his entire system and eventually causing him to get admitted into a hospice.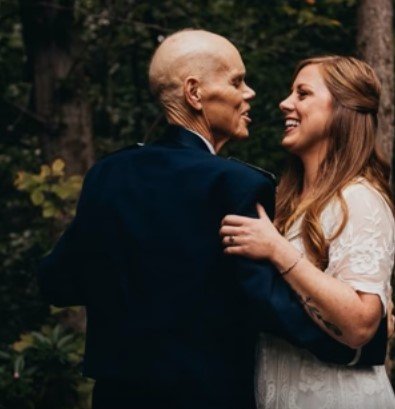 Because the future looked rather bleak, his daughter, not wanting to miss out on the important father-daughter exchange characteristic of weddings, decided to make a video of him and herself doing the reception dance. 
Taking engagement photos were not as crucial as having her father shoot a photo session with her. The scenic photography had the pair creating their very own father-daughter wedding reception dance right in the family's backyard. 
Bride swaps engagement photoshoot to take photos with dying dad https://t.co/ow1V90sAVj pic.twitter.com/cXALl5vVGu

— CBS News (@CBSNews) April 21, 2019
The moment came last year September and Tim suited up for the event in his Air Force uniform. Carey went all out wearing her bridal gown, getting made up and having her hair delicately styled like it would for a wedding. 
The beautiful pair went on to dance to the 70-year-old's favourite song, "Unchained Melody." While speaking in an interview with Inside Edition, Becky related how emotional and vital the moment had felt given that she "had been in chosen denial about how sick he was" because they still managed to have a good time together. 
Becky Carey is going viral for swapping her engagement photoshoot for one with her dying father before his time ran out. https://t.co/6FYnoNFtS6 pic.twitter.com/AMUovjI1II

— Inside Edition (@InsideEdition) April 19, 2019
As they slowly danced, Becky leaned in to assure her father that "this is just practice and just for fun." In a heartbreaking moment, the veteran, overwhelmed, broke down into tears, which led to Carey crying herself. A teary Carey said:
"He started crying, so of course I started crying. It was sad, but it was also beautiful." 
At the time, she had only planned to air the emotional clip on the day of the wedding, "just in case" something tragic happened. So instead of the usual display of engagement photos at the ceremony, the clip will be played to honour his absence. 
Unfortunately, her worst fears came to be as her father, who had been an Air Force Colonel, died in his sleep. Timothy died on March 29 just a few months before Becky's wedding set to hold in September.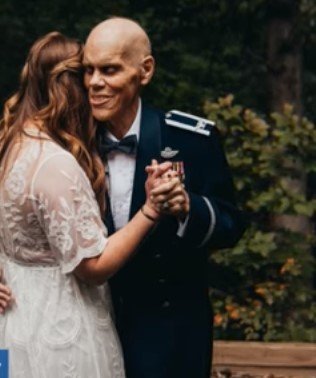 Becky, who described his passing as a "peaceful one," changed her plans and decided to share the heart-wrenching tale with the world. The teacher fondly related how Timothy had held on for that long so that he would walk her down the aisle. Becky said:
"He fought cancer harder than anyone; he should have died at least seven times prior. I know he was holding on for me."
Becky and her fiance still plan to play the clip at the upcoming ceremony, but it will be nothing compared to have Timothy physically present. May his soul rest on in perfect peace.