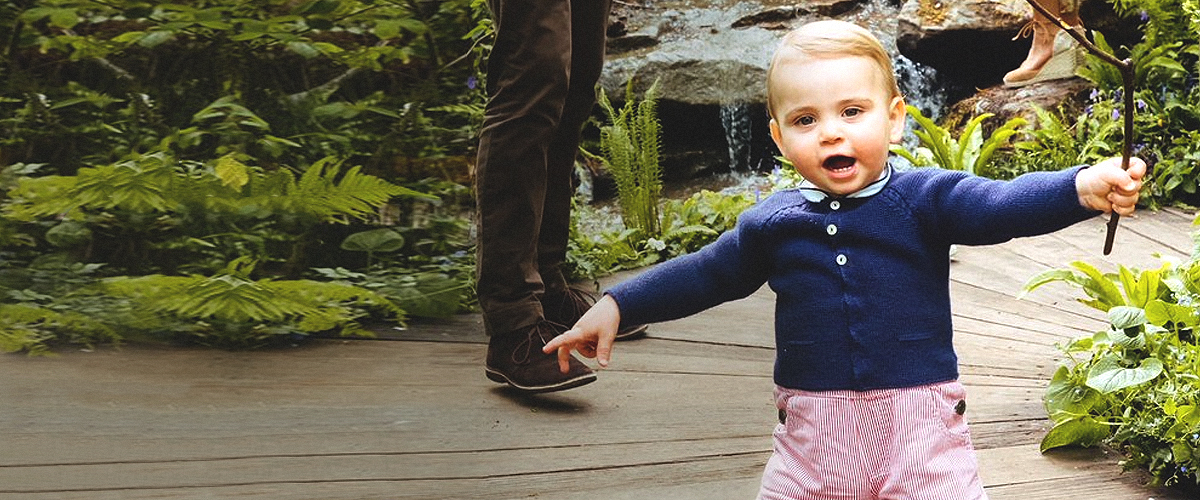 twitter.com/RoyalFamily
Prince Louis, 1, Smiles and Confidently Walks by Himself in New Video
On Sunday afternoon, Prince William and Duchess Kate's three children had the pleasure of playing in her new garden at the Chelsea Flower Show. In one image shared on social media, Prince Louis was seen walking on his own.
Now fans have been treated to a new video that shows Prince William and Duchess Kate's lastborn smiling confidently as he takes some steps. In the clip, he's seen playing with his older siblings Prince George. 5. and Princess Charlotte, 4.
The adorable video of the Royal children playing in Kate's "Back to Nature" garden was released by ITV on Monday. At one point in the clip Louis, 1, notices the camera and comes nearer for a cute closeup.
For the family outing, which lasted for almost an hour, Louis wore his brother's striped hand-me-down shorts. The shorts were from Spanish brand Neck and Neck.
George wore a teal polo top and navy shorts while Charlotte was dressed in a cute floral dress costing $120, from Rachel Riley. Louis and his siblings also had a chance to have a ride on the rope swing while assisted by their father.
One image also shows Kate getting in on the fun on the swing. Little Louis also had the pleasure of inspecting some rocks in the garden while his mother kept a close eye on him.
"Louis is keeping us on our toes."
The photos and video from the garden are the first documentations of Louis walking on his own. Last week, during a visit to a War II code-breaking center in London, Kate hinted that the toddler was already learning to walk.
At the time, she said Louis "is keeping us on our toes." She shared: "I turned around the other day and he was at the top of the slide — I had no idea!"
The Duchess spent almost every day for five days working on the garden. Her garden was built in collaboration with the Royal Horticultural Society.
They were also assisted by designers Andrée Davies, 55, and Adam White, 45. The garden's purpose was to highlight the benefits of playing outdoors.
Explaining her vision Kate said: "In recent years I have focused much of my work on the early years, and how instrumental they are for outcomes later in life."
She added:
"I believe that spending time outdoors when we are young can play a role in laying the foundations for children to become happy, healthy adults."
In a similar video posted on Monday by Kensington Palace, Kate said:
"I hope that this woodland that we have created here really inspires families, kids and communities to get outside, enjoy nature and the outdoors and spend quality time together."
Please fill in your e-mail so we can share with you our top stories!