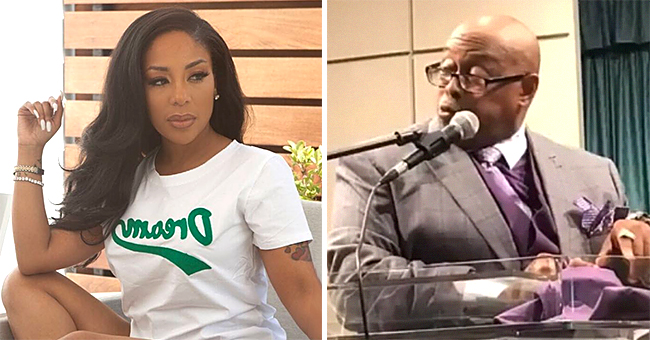 Instagram/thaddeus_matthews ; Instagram/kmichellemusic
K. Michelle Has Explosive Argument with 'Cussing Pastor' in Restaurant
K. Michelle saw red and exploded when she bumped into notorious cussing pastor Thaddeus Matthews at a restaurant. Their encounter escalated in a screaming match caught on video by a customer.
K. Michelle lost control at a restaurant during an explosive encounter with Pastor Thaddeus Matthews.
WHAT PROMPTED THE BLOW UP
The singer who has a bitter history with the famous cussing pastor got into a screaming match with him when they ran into each other for the first time at Regina's Cajun Chicken in downtown Memphis, The Jasmine Brand reports.
According to Matthews who shared the story on his Instagram and provided footage of the incident, he was waiting for his food when the owner of the restaurant approached him requesting him to leave because Michelle asked her to and threatened to call the police on him if he didn't. Michelle gave the reason that the pastor was stalking her.
"Michelle you got the right one I don't give a damn about you at all, if you hadn't acted up I would not have known who your poster child for funeral home looking a** was."
Matthews refused to cooperate and instead dared Michelle to call the police. He claims she did so three times but the police never came. After thirty minutes, Michelle and the man she was with who Matthews referred to as "her very feminine acting boyfriend" attempted to leave the restaurant. Matthews laughed out loud and told her, "B*** don't look like even the police like your zombie looking a**."
This prompted Michelle to retaliate and launch a screaming match with him accusing him of molesting children. A customer captured the explosive scene on video. In another clip which Matthews also shared on his Instagram, she accuses him of having a boyfriend whose identity she knows.
MATTHEWS' SCATHING RESPONSE TO THE ENCOUNTER
Matthews said the singer called him names and cussed at her. He described her as the "craziest b*** in the entire universe." He also addressed Michelle towards the end of his message saying,
"Michelle you got the right one I don't give a damn about you at all, if you hadn't acted up I would not have known who your poster child for funeral home looking a** was."
WHERE THE TENSION BETWEEN THEM STARTED
To clearly understand Michelle's rage and the pastor's despise of her, we need to dial back to December when they first butt heads.
According to Rolling Out, Michelle posted a note on her Instagram accusing Memphis Judge Lonnie Thomspon of assaulting three different women. This drew the attention of Matthews who defended Johnson by suggesting Michelle's motive for maligning the man was her eviction from her home.
It was Johnson who presided over the case that resulted in a demand for her to leave her rented property after she failed to pay rent for more than half a year.
Adding more insult to injury, Matthews claimed Michelle trashed the home before leaving by attracting rodents with food and painting its woodwork pink.
With this history between them and Michelle's volatile nature, an encounter with Matthews was bound to blow up.
MATTHEWS EARNS DISAPPROVAL
But their story didn't end there. After Matthews posted the clips of his encounter with the singer, he took to his Instagram again and ranted about Michelle. He even involved her boyfriend's alleged side chick who he claims contracted Type 1 and 2 Herpes from the guy.
Matthews' actions earned a lot of disapproval. Many slammed him for not acting like a pastor and for his disrespect towards a Black woman. His credibility to lead a church was also questioned.
It's unclear how Michelle reacted to the notorious pastor's latest rant but it appears she found allies in those who were disappointed in him.
Please fill in your e-mail so we can share with you our top stories!