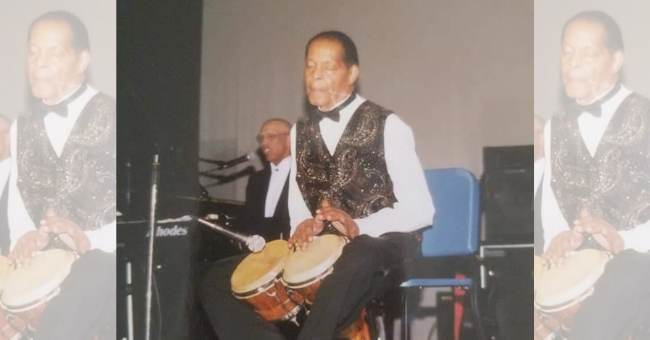 Facebook/Kpowels
Preston Epps, Renowned Percussionist, Dies at 88

Preston Epps, a percussionist who began his career in the late fifties, passed away at his home in Los Angeles at the age of 88.
His daughter, Kathy Epps-Powels, confirmed to Hollywood Reporter earlier today that her father had passed away of natural causes on May 9, 2019.
Epps rose to fame in 1969 when he starred as a bongo player in the film "Girl in Gold Boots." He soon carved out a niche for himself as a skilled bongo player.
Epps released 12 singles from three albums in the decade leading up to his silver screen success.
He was signed to the Laboe record label and recorded "Bongo Rock" in 1959. It became the label's first single and remained on the Billboard Hot 100 chart for a whopping 13 weeks.
His other hits include "Bongo Bongo Bongo," "Bongo in the Congo," "Bongo Boogie," "Mister Bongos," "Afro Mania," and "Bongo Rocket.
Even though his last single was released in 1973, Epps continued to play in clubs in Southern California into the 1990s.
Epps is survived by his children Kathy, Kevin, Preston III, Jon, Cheri, DeMeishah and Rae, as well as his 14 grandchildren and 24 great-grandchildren.
A celebration of his life has been arranged for May at 11:00 am in Los Angeles, at the Mount Moriah Baptists Church.
Please fill in your e-mail so we can share with you our top stories!