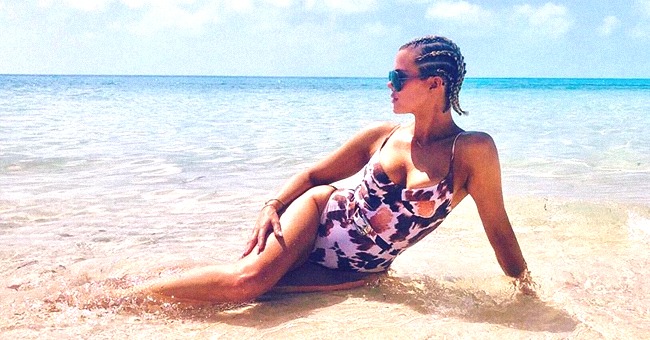 Instagram.com/khloekardashian
Khloé Kardashian Flaunts Her Curves in Swimwear in Vacation Photos with Daughter
The reality TV star took her 1-year-old True Thompson on a beach trip along with some friends and family, including her younger half-sister Kylie Jenner, and she gushed about it on Instagram.
34-year-old Khloé Kardashian is very excited about her recent beach trip to the Turks and Caicos Islands with her only daughter True, as her several posts on Instagram documenting it indicate.
Kardashian shared many pictures of herself looking very stylish and in great shape, as she posed in the paradisiac destination alongside baby True and best friends Malika and Khadijah Haqq.
The entire group that joined Khloé on the getaway was revealed in a post by her older sister Kourtney, who captioned the video "No boys allowed."
The "Keeping Up With the Kardashian" star is no stranger to luxury and beautiful landscapes, but this vacation seems to really strike a chord in Khloé, who repeatedly expressed her delight about the trip.
"We have created some bomb *** memories together. Keep em coming," she captioned a picture of herself beside the Haqq twins, with one of them holding True in her arm as the toddler looks affectionately at her mother.
"I never want to leave," Khloé wrote as a caption to another picture, showing her reclining at the seashore.
"Yep, still posting about Turks," she joked in one of the last posts about the memorable trip, sharing a picture of True and her enjoying the water.
While Khloé's fans couldn't have enough of her Turks and Caicos Islands' posts, others found something to criticize the socialite about in relation to the trip, noting that she either copied or borrowed one of Kylie's swimsuits.
In one of the aforementioned snaps, Khloé is wearing a belted, cow-print one-piece that was previously seen on Kylie during a January beach trip.
While the shared bathing suit made her the target of friendly jokes about having enough money to buy her own, some users were more seriously offended by the braided hairstyle she wore on the photos, accusing her of cultural appropriation.
"You're not black. Stop with these hairstyles. It's a mockery and it's not cute," one of her fans complained.
"Just because ur child is black doesn't mean u get to rock OUR cornrows," someone else added.
Nevertheless, a third person intervened to defend Khloé's right to wear her hair as she pleased: "Everyone saying she's not black. Why is it that we white women can't braid our hair, but colored women can wear wigs? I don't get it. It's hair."
Please fill in your e-mail so we can share with you our top stories!