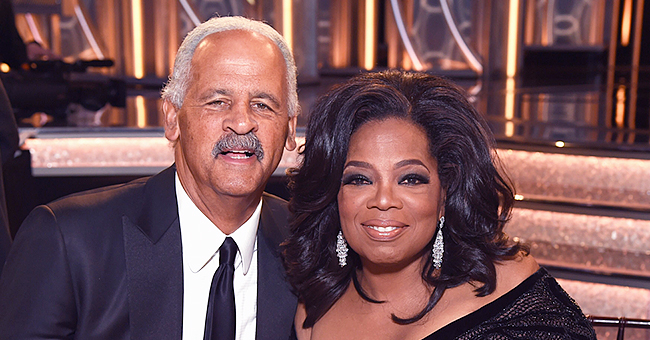 Source: Getty Images.
Meet Stedman Graham, Oprah's Partner of over 30 Years Whom She'd Never Marry
Oprah Winfrey and Stedman Graham almost got married once, but after decades together they never made it to the altar, and plan on keeping it that way.
The pair first got together in 1986, and a few years into the relationship they realized that marriage would not be part of their partnership. But there was a time in her life where Oprah admitted that she "wanted Stedman to want to marry" her, in fact, the feeling was mutual.
And so Stedman popped the question in 1992, but after their plans got delayed due to a book deal, they let go of the idea of a traditional relationship along with its traditional trimmings.
While people found it odd, she assured them during an interview with Vogue that their failure to get married actually kept them together.
"Nobody believes it, but it's true. The only time I brought it up was when I said to Stedman, 'What would have happened if we had actually gotten married?'" she recalled during the interview. "And the answer is: 'We wouldn't be together.'"
As Oprah elaborated, it became clear that a marriage would have changed their way of "being in this world," which would have driven them apart. "His interpretation of what it means to be a husband and what it would mean for me to be a wife would have been pretty traditional, and I would not have been able to fit into that," she said.
During a 2015 "SuperSoul Sunday" talk with Shonda Rhimes, Oprah elaborated on feelings regarding marriage as she said, "What I realized is, I don't want to be married ... because I could not have the life that I created for myself."
Not going the traditional route and trying to make it work taught Oprah an important lesson as she learned to "live life on your own terms."
Stedman got his fair share of publicity through his relationship with the iconic and former talk show host Oprah but mostly keeps out of the spotlight, except for his own achievements.
The New Jersey native is an author, educator, businessman, speaker, and podcaster. During his time in public relations at B & C Associates, Stedman worked with black causes and had many high profile clients, including the author Maya Angelou and the activist Winnie Mandela.
Between 1995 and 2012, he released a string of business and self-help related books but also delivered several speeches on self-awareness and identity at many private and public schools over the years.
With his master's degree in education and a bachelor's degree in social work, Stedman continues to make a difference among the youth through his various efforts.
One of his efforts includes a charity he founded in 1985 called Athletes Against Drugs, and it is through an event the charity held in Chicago, Illinois in 1986, that Stedman met Oprah.
Please fill in your e-mail so we can share with you our top stories!