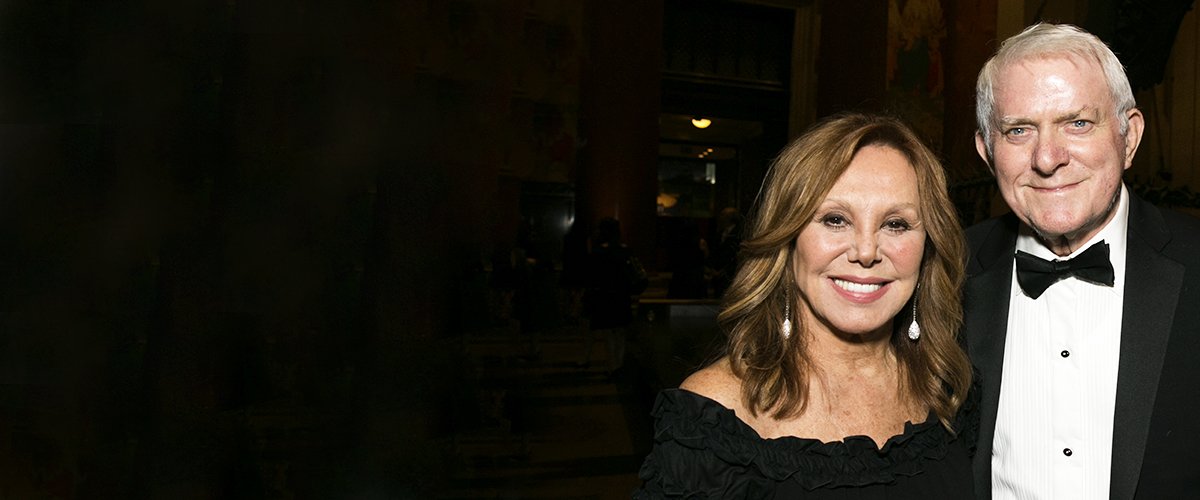 Getty Images
Marlo Thomas Poses for Rare Photo with Husband Phil Donahue at American Icon Awards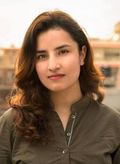 Former "That Girl" actress Marlo Thomas and talk-show host veteran Phil Donahue made a rare appearance at the American Icon Awards in Beverly Hills on May 20, 2019.
The event was filled with the glamour of many famous faces flashing their elegance. The spotlight, however, went to the couple who rarely have their photographs taken together but were anything but camera shy at the event.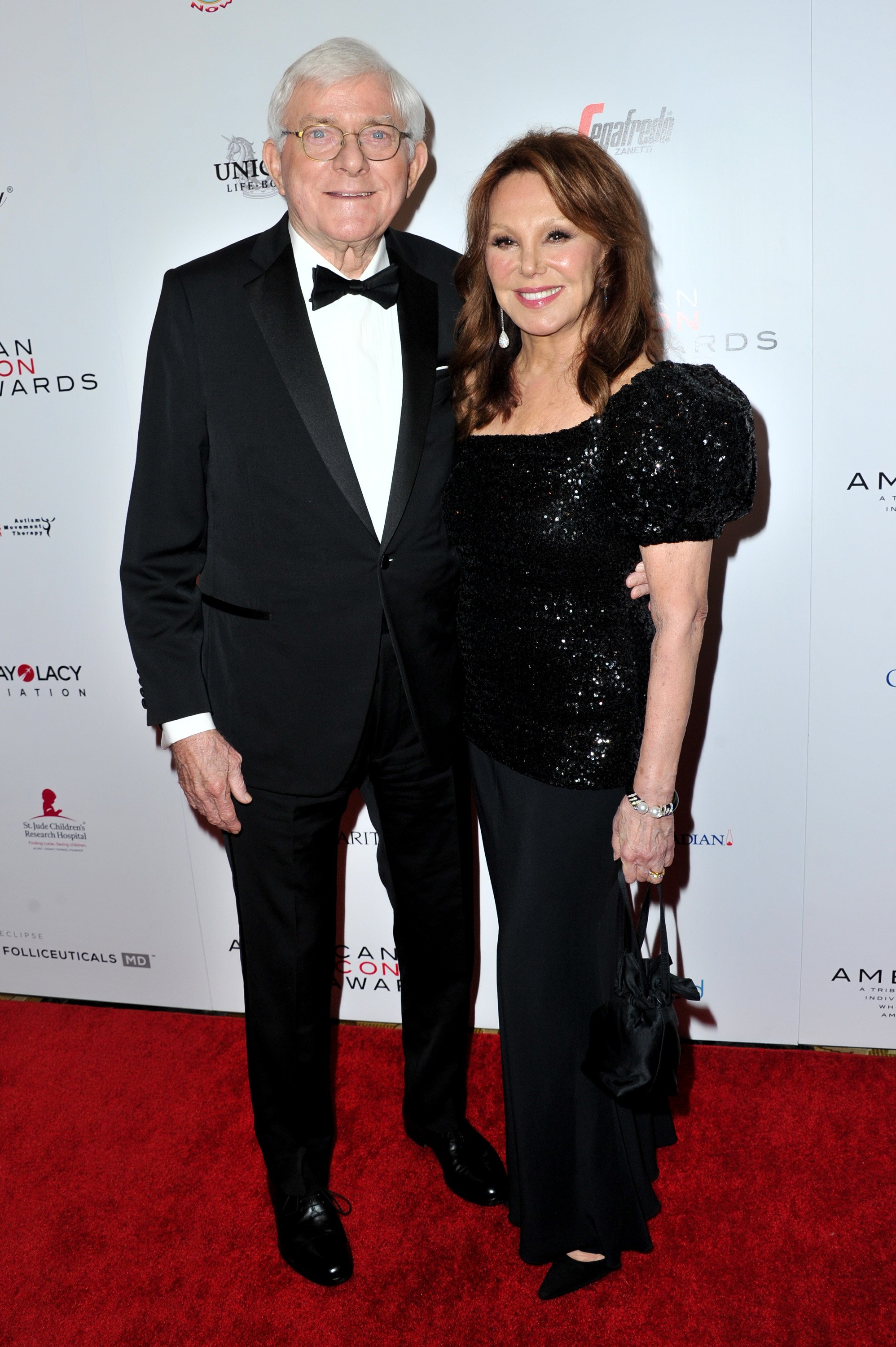 Phil Donahue and Marlo Thomas attend the American Icon Awards at the Beverly Wilshire Four Seasons Hotel on May 19, 2019 in Beverly Hills, California | Photo: GettyImages
A DAZZLING COUPLE
Marlo Thomas—alsoknown for playing Jennifer Aniston's mother on Friends—looked stunning, modeling her sparkly black gown with puffy shoulders and a scoop neck.
She completed the look with long earrings and a pearl-decorated cuff bracelet. Of course, Phil Donahue wasn't far behind with his dashing tux and his iconic smile.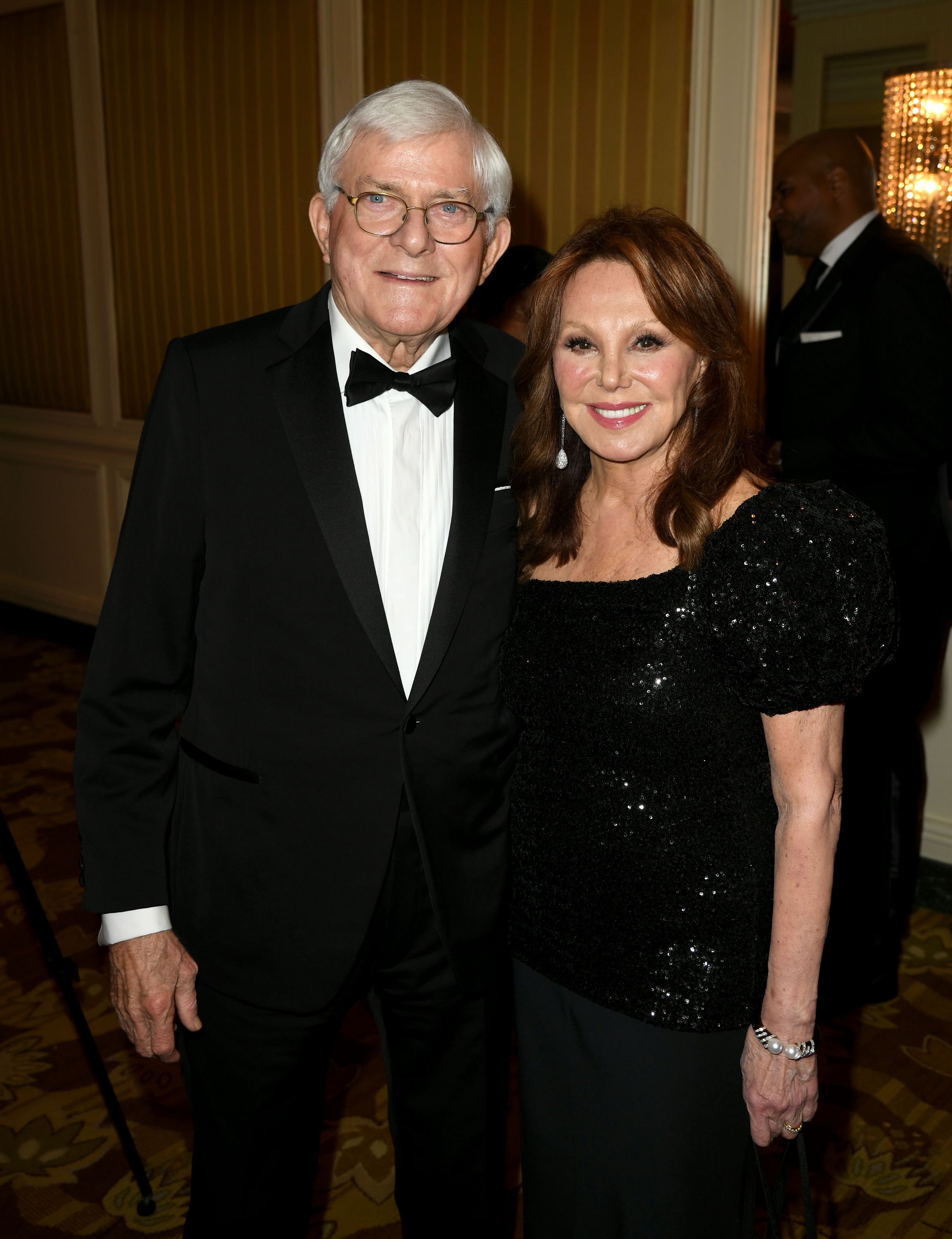 Phil Donahue and Marlo Thomas arrive at the American Icon Awards at the Beverly Wilshire Four Seasons Hotel on May 19, 2019 in Beverly Hills, California. | Photo: GettyImages
A PROUD HUSBAND
Phil couldn't be prouder of his wife, who served as the National Outreach Director for St. Jude Children's Research Hospital back in 2015.
"Everywhere she goes, she wins awards," he said that same year of Marlo during a star-studded lunch to celebrate the cast of her Broadway show, "Clever Little Lies." And continued:
"At airports, they knock me over — they say, 'We love That Girl'. Now and then they look me over and say, 'We like you, too, Regis!'"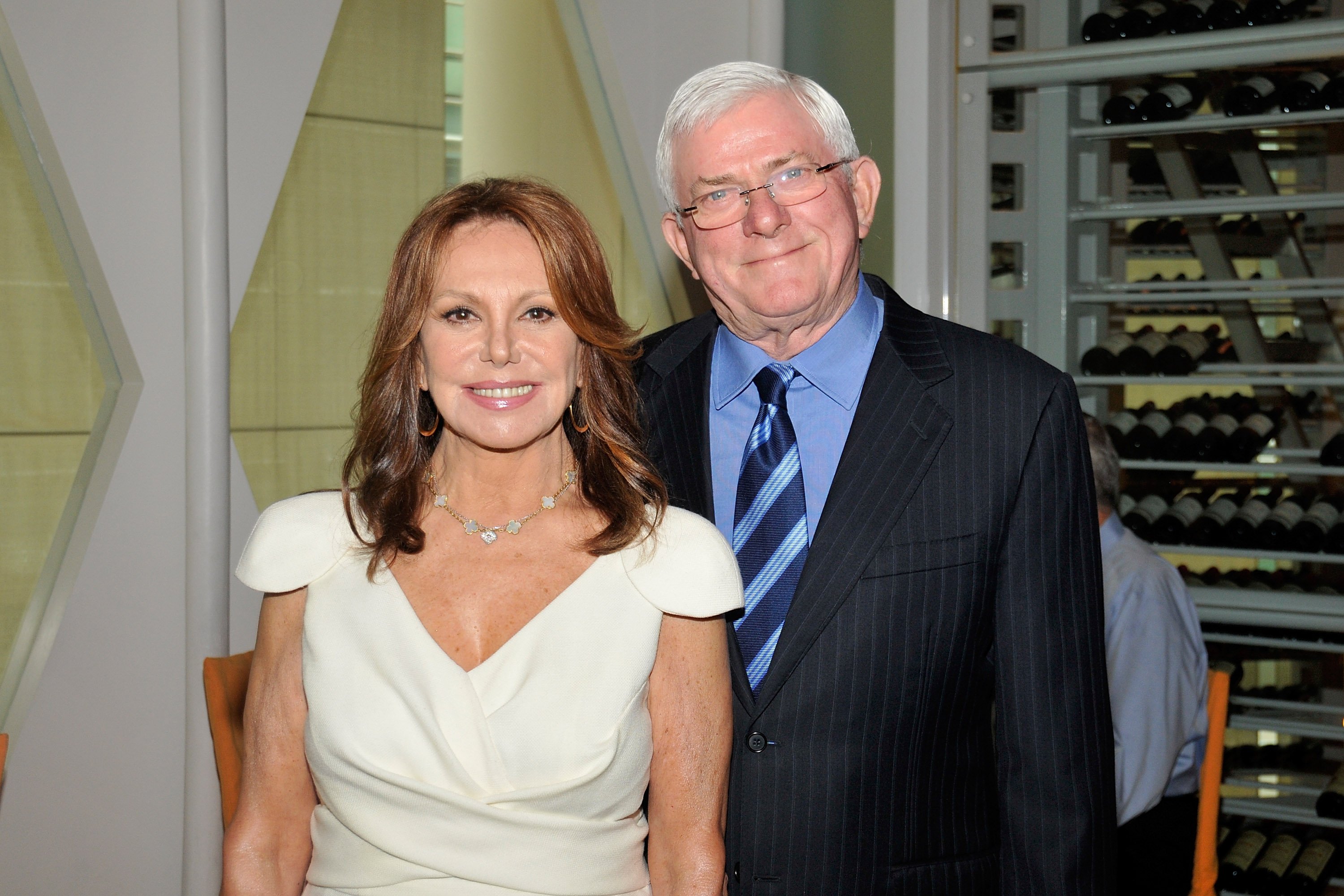 Marlo Thomas and Phil Donahue attend the 2011 Jefferson Awards for Public Service at Le Cirque on June 22, 2011 | Photo: GettyImages
THEIR BACKGROUNDS
Marlo came from a Hollywood family and was raised in Beverly Hills by mother Rose Marie Mantell Thomas and father Danny Thomas.
She took on acting early on and worked on numerous shows such as "Bonanza," "McHale's Navy," "Ben Casey," "Arrest and Trial," and "The Joey Bishop Show."
She struck fame in 1966 and continued till 1971 when she played the character of Ann Marie in the show "That Girl."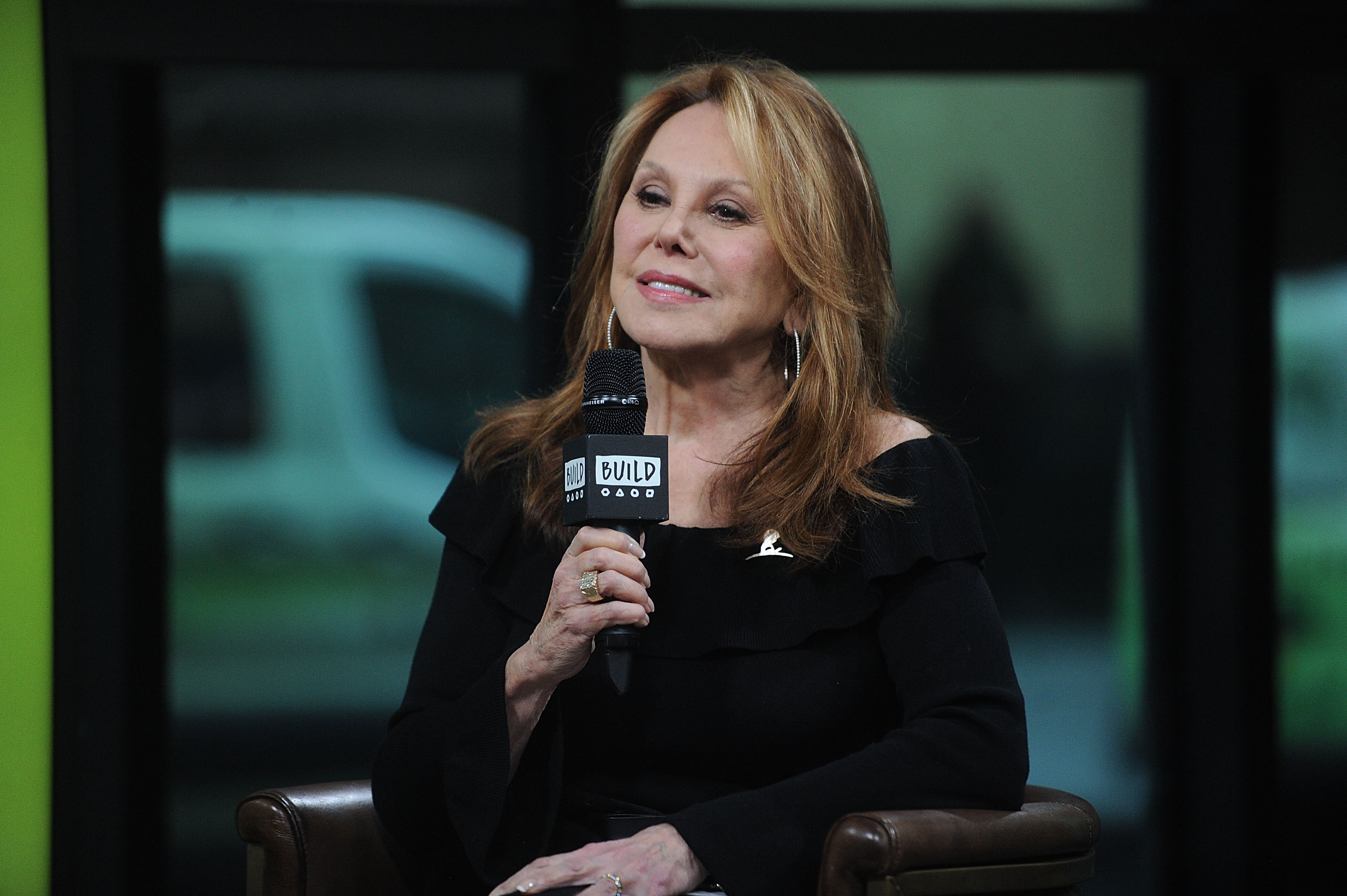 Marlo Thomas attends Build presents Jeannette Ferran Astorga, Laura Bishop, Alex Bellos and Marlo Thomas Discussing St. Jude at Build Studio on December 12, 2017 in New York City | Photo:GettyImages
Phil, on the other hand, came from a family that didn't have any ties to the entertainment industry. He started as a comedian and then became a radio announcer in local stations.
That led him to try his luck as a news anchor, and eventually to create and host "The Phil Donahue Show" later renamed "Donahue," which was the first show of its kind to incorporate audience participation.
The show aired from 1967 until 1995, and guests such as Bo Derek, Rosie O'Donnell, and Marilyn Manson were featured. He also had several political leaders on his show, like Jerry Brown and Bill Clinton.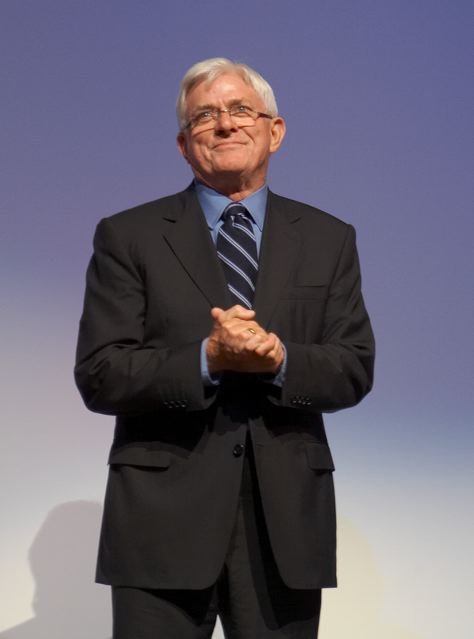 Phil Donahue introduces the documentary "Body of War" at the Toronto International Film Festival, September, 2007 | Photo: Wikimedia Commons Images
LOVE AT FIRST SIGHT
Phil and Marlo first met back in the late '70s, when she was a guest on his talk show, and it was love at first sight for the two of them.
Back then, Marlo had built a reputation for being outspoken and direct on interviews and walking out of a studio if she felt she was being disrespected. But with Phil, Marlo let out her most vulnerable side, flirting on screen with him and even daring to say in front of the cameras that any woman would've been lucky to have him.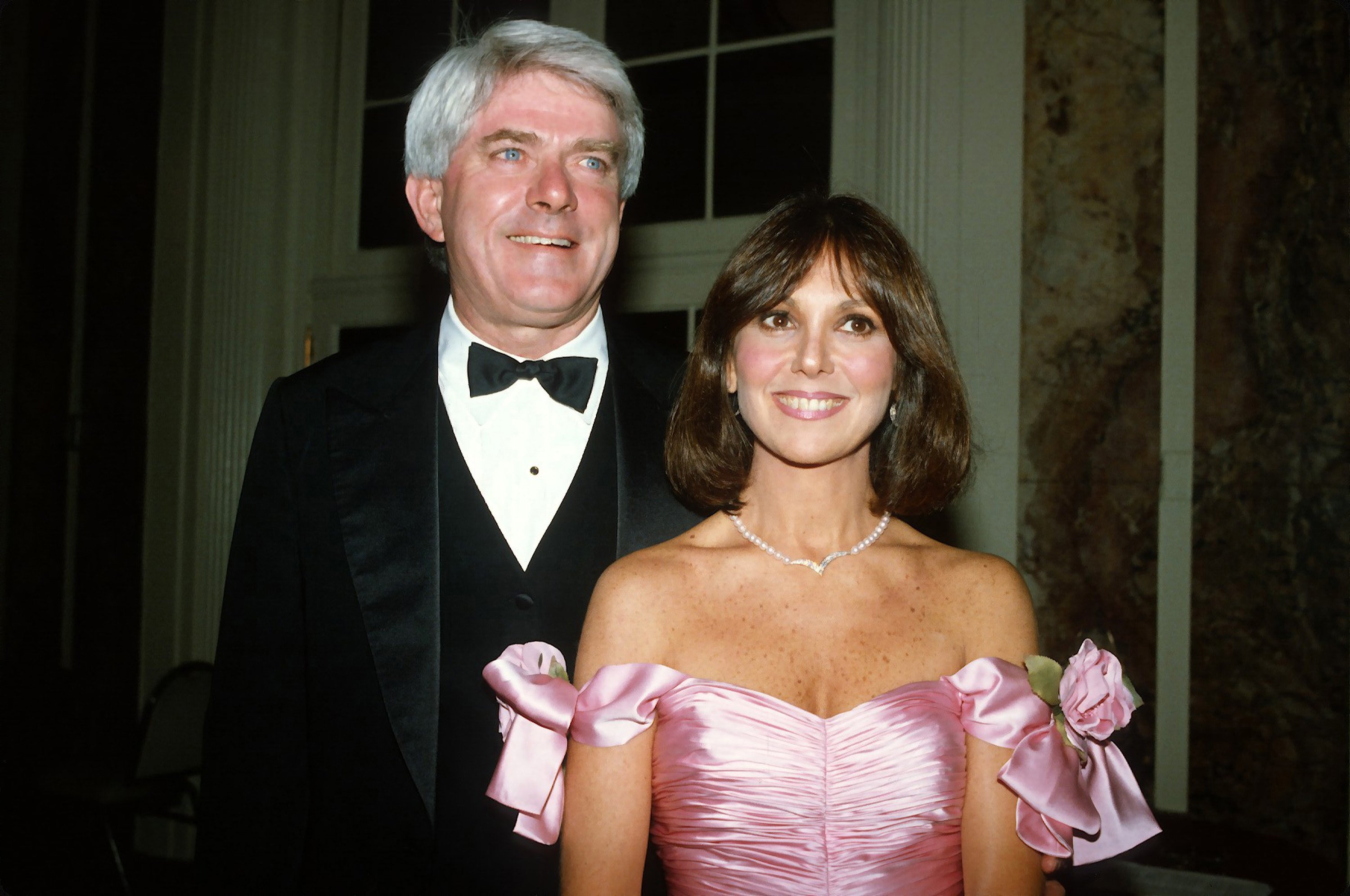 Phil Donohue and Marlo Thomas pose for a photograph at Gloria Steinem's 50th birthday celebration May 23, 1984 in New York City | Photo: GettyImages
Phil was equally taken with her and didn't wait long to ask her out on a date. They dated for three years and tied the knot on May 21, 1980.
She was in her late 30s, and he was in his early 40s, and for Marlo, that's part of the reason for their marriage's success.
"Had Phil and I been younger, we might have been more impatient and missed each other," Marlo told AARP. "But being older, we trusted our hearts and made an effort. For many, love really is better the second time around, but for me, the first time has been just fine."
Please fill in your e-mail so we can share with you our top stories!