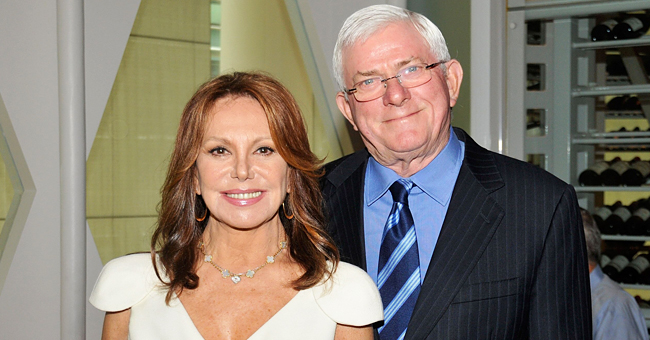 Getty images
Story behind Marlo Thomas and Phil Donahue's Nearly 40-Year Happy Marriage

Famous "The Girl" actress, Marlo Thomas has been married to American television host, Phil Donahue for nearly four decades. Here is their secret to a happy marriage, and theirs is indeed a charming love story.
It was love at first sight for Marlo and Phil whose first encounter happened in 1977 when the former was a guest on Donahue's talk show.
They married on May 21, 1980, and together they raised Donahue's children, products of his previous relationship. Considering that they are notable figures in the movie industry, their successful marriage is indeed laudable.
THE SECRET TO A SUCCESSFUL MARRIAGE
During an interview with TODAY, Marlo revealed one seemingly unspoken rule they have kept to being famous entertainers. At the time of the meeting, which was sometime in 2015, Marlo's most work at the time, "Clever Little Lies" had only recently premiered.
Almost as expected, the stunning actress was accompanied by her widely acclaimed husband, Phil. While talking about Phil's presence at the event, Marlo fondly described him as her "stage-door Johnny" pushing that he was frequently present at such events to support her.
However, when asked what Phil thought about her work, she explained that he never critiques her work. He is only present to support her and be entertained like every other person.
Marlo further explained that it is one of the reasons that they have remained strong together despite being so well established in their respective entertainment careers. Thomas explained:
"That's how we've been married for 35 years, you don't give critiques."
It is common knowledge that celebrity unions seem to fail and quite quickly too. That may be accrued to the time-consuming nature, the fame and the success that comes with the job. It is why the few celebrity couples that manage to stay together for a very long time like Phil and Marlo are found admirable.
MARLO'S THOUGHTS ON SEX AND AGING
For both celebrities and non-celebrities, sex, when the couple is well past their prime, is almost non-existent. That may cause insecurities in either partner, especially for women who seem to be more sensitive about the subject.
Marlo, who is now 81, shared that she no longer worries about aging while speaking at "50 Over 50," a luncheon sponsored by "Good Housekeeping" and L'Oréal Paris to honor inspiring women over 50. She said:
"I don't bungee jump, but I didn't do that at 18, so I don't feel deprived in any way at all. I am surprised when I think about my age because I feel exactly the way I always have."
The award-winning actress has thus resorted to taking good care of her skin and keeping to a strict fitness regime. She said:
"People will tell you that you can't do something at your age, but don't listen to them and don't listen to the facts, I believe in motion. Do one thing every day that gets you closer to your dream, even if it's just one very small thing."
On a final note, she explained that one reason her marriage to Phil is still so healthy is that she has learned to listen. For Marlo, that is a crucial task because listening helps you achieve a higher level of intimacy with your partner.
According to Marlo, a couple's sexual life will especially improve "the more inside each other's head you get."
Please fill in your e-mail so we can share with you our top stories!