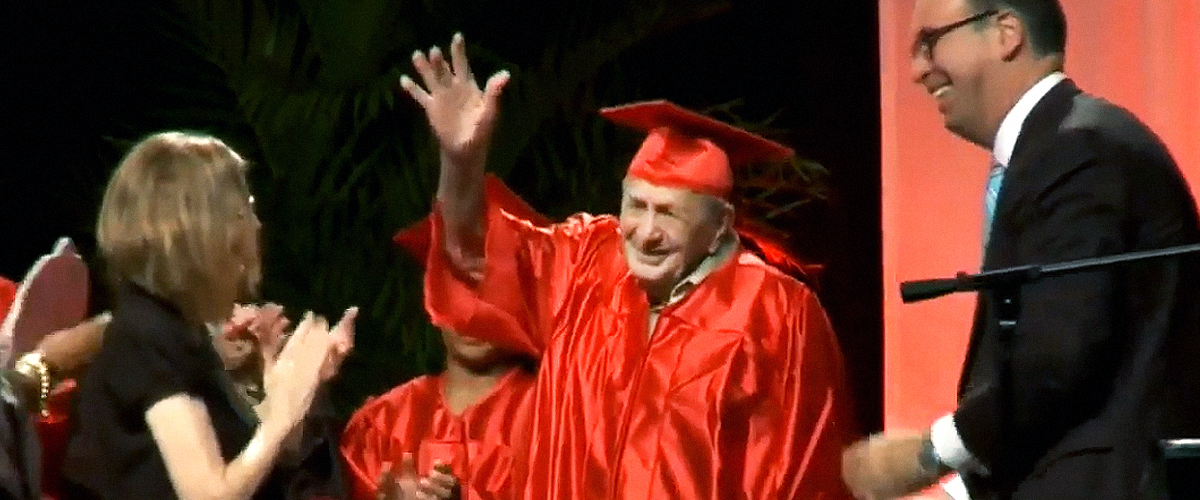 youtube.com/CBS Miami
85 and 95-Year-Old US Veterans Finally Fulfill Their Dream of Getting High School Educations
Two military veterans recently proved that it is never too late to follow a dream as they both gratuaded several decades after leaving high school to fight for their country.
On Saturday, May 25, 2019, 95-year-old Joe Perricone and 85-year-old Bill William Arnold Craddock received their diplomas after missing out on the opportunity to walk across the stage while they were young.
Perricone had to leave high school to serve in World War II, while Craddock fought for the United States in the Korean War, but now they can add another feat to their long list of accomplishments.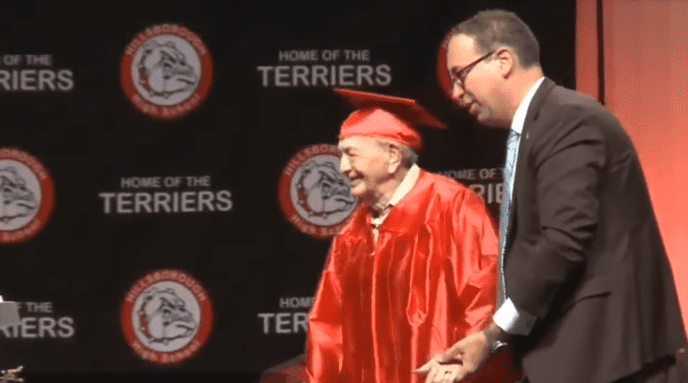 Joe Perricone and his grandson, Thomas Palermo, at Hillsborough High School | Photo: ABC Action News
Back in 1943, Perricone was very close to graduating from Hillsborough High School in Tampa, Florida, but ended up being drafted and his educational pursuit was put on hold.
During an interview with CBS 12, the veteran shared that the draft board told him to go serve his country and "be a big boy," and after being honorably discharged in 1946, he never went back to high school.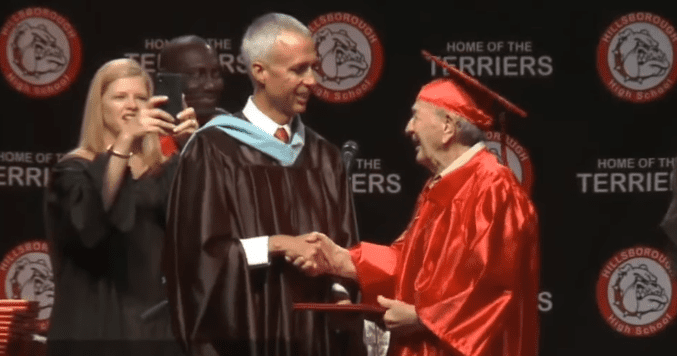 Joe Perricone receiving his diploma from Gary Brady | Photo: ABC Action News
A DREAM COME TRUE
After learning of his grandfather's dream, Judge Thomas Palermo arranged for him to be a part of this year's graduation ceremony. Principal Gary Brady was proud to introduce Perricone:
"We would like to welcome a very special guest. Joe Perricone is a member of the Hillsborough class of 1943. He has been married to his wife for 72 years. He will be receiving his long overdue and well-earned diploma with the class of 2019, 76 years after his own graduation day."
With the help of his grandson, Perricone walked on stage and accepted his diploma with a big smile on his face while receiving a standing ovation from everyone in the room.
MORE THAN JUST A DIPLOMA
As for Craddock, who joined the Air Force in 1953 at the young age of 16, he was given the chance to join the graduating class of 2019 at Volunteer High School, in Tennessee.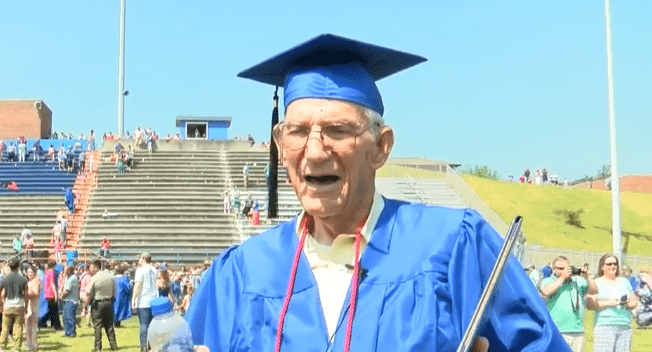 William Craddock at Volunteer High School | Photo: WJHL
According to the Korean War veteran, seeing all those people cheering as he proudly accepted his diploma made him feel good, especially after everything he went through.
Craddock also took the opportunity to share some of his wisdom and advised the young generations to "study hard and be good," and get the best education possible.
A BEAUTIFUL MOMENT BETWEEN MOTHER AND DAUGHTER
But the two veterans weren't the only ones who graduated this weekend. Sandra Murillo, a 46-year-old mother from New Jersey, earned her bachelor degree at the same time as her 25-year-old daughter, Katherinn Lopez-Murillo.
Sandra moved from Colombia to the U.S. in 1996 without knowing any English and had to work multiple jobs while going to school to build a good life for herself and her daughter.
Inspired by her mother's incredible efforts, Katherinn followed in her footsteps and they both graduated from William Paterson University on Saturday.
Please fill in your e-mail so we can share with you our top stories!