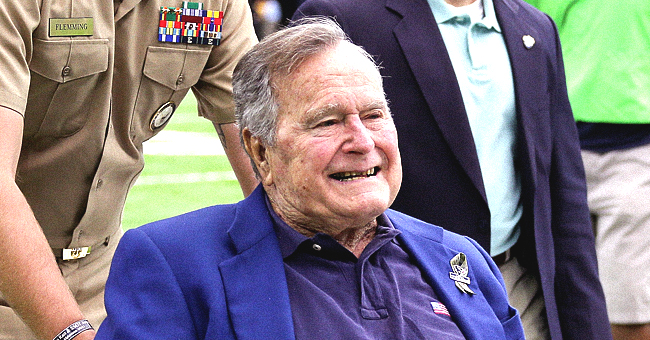 Getty Images
George HW and Barbara Bush Honored at Memorial Day Parade with Empty Chairs
Kennebunkport's Dock Square honored the late George and Barbara Bush, leaving two empty chairs at the spot where they annually watched the Memorial Day parade, on Monday.
Every summer, former President George H.W. Bush and his wife, Barbara Bush, would watch the Memorial Day parade at the Kennebunkport's Dock Square. This year, two empty seats were left at the same spot to pay tribute to the late president and former first lady.
According to American Legion Post 159's Mark Matthews, organizers wanted to recognize the absence of the Bushes who both passed away last year. George was a Navy veteran, serving as a naval aviator in World War II, and long-time resident during the summers.
The former president had an estate purchased by his great-grandfather, David Davis Walker, and his son, George Herbert Walker, to spend summers in. The mansions were called Walker's Point in Kennebunkport, and later known as the "Summer White House" during Bush's term.
The Lansing State Journal notes that their vacations in the town were awaited by locals who loved the couple and would spot Bush on a speedboat along the Atlantic coast or at the Cape Arundel Golf Club, while Barbara at the grocery store.
The town's love for Bush showed when they surprised him with a 6,000-pound naval anchor monument which had inscriptions that read:
"As he was for our nation and world during four years of tumultuous and historic change, so, too, has Kennebunkport served, in the words of St. Paul, 'as an anchor of the soul, both sure and stead' to him."
At the age of 94, Bush passed away, a few months after Barbara. His wife's death left him broken-hearted. His longtime chief of staff, Jean Becker, said in a statement:
"So many of you are asking, 'How is 41?' He, of course, is broken-hearted to hose his beloved Barbara, his wife of 73 years."
She further disclosed that Bush held his wife's hand the entire day before she passed away and was right by her side the moment she died.
Barbara believes that her marriage to Bush was "the most important decision" of her life and that his sense of humor, which was compatible with hers, was one of the things that strengthened their relationship.
Please fill in your e-mail so we can share with you our top stories!